I love exotic food. I stayed in Asia for over 7 months in 2013 and loved eating exotic dishes everynight. I ate curry with my hands in Sri Lanka and ate from a giant leaf in Malaysia. In the UK I'd rarely choose to eat Japanese food, why eat expensive sushi when I could have a delicious Italian or Indian for the same price? Needless to say I wasn't that excited about the food in Japan before I moved here. I just hoped I would be able to tolerate it.
Oh my, how I was wrong!
Food in Japan is insanely cheap. When I was in Tokyo I ate out at least twice a day and still had plenty of change left in my pocket. Every dish in Japan is made with tender loving care whether it's from a Michelin star restauraunt or the local 7-eleven. People here respect food.
Kombini food
My first foray into Japanese food was surprisingly the Kombini! The 7-11 here is very different to 7-11 in Thailand. There's row upon row of carefully crafted ready meals, not the usual slop that is sometimes found in the UK. My first taste of Japanese food was Gyoza, a food that I actually used to eat regularly in the UK! Even though the Gyoza were from a Kombini, they were delicious and not too greasy.
Even though the Kombini had a lot of foods that I recognised, it also had lots of food that I had no idea what it was made of. Lots of unidentified meat and very little writing in English.
Sushi
I was wandering around Shibuya at night, marvelling at the beautiful neon signs and tall buildings when I realised that I hadn't eaten all day. By  change I came across a small sushi place that was full with people. I sat down and was pleased to find out that It was a sushi train restaurant with an actual little train that bring your order right to your table. How Japanese!
I somehow managed to get the individual ordering screen to display English and then I started ordering Sushi! After my first mouthful I was in love, I couldn't belive how fresh the sushi was and the sensation as it melted in my mouth. I ordered plate after plate and left feeling very full, and with a plan to retirn the next day. Surprisingly the sushi place that I went to is a chain and has a restaurant a five minute walk from my apartment!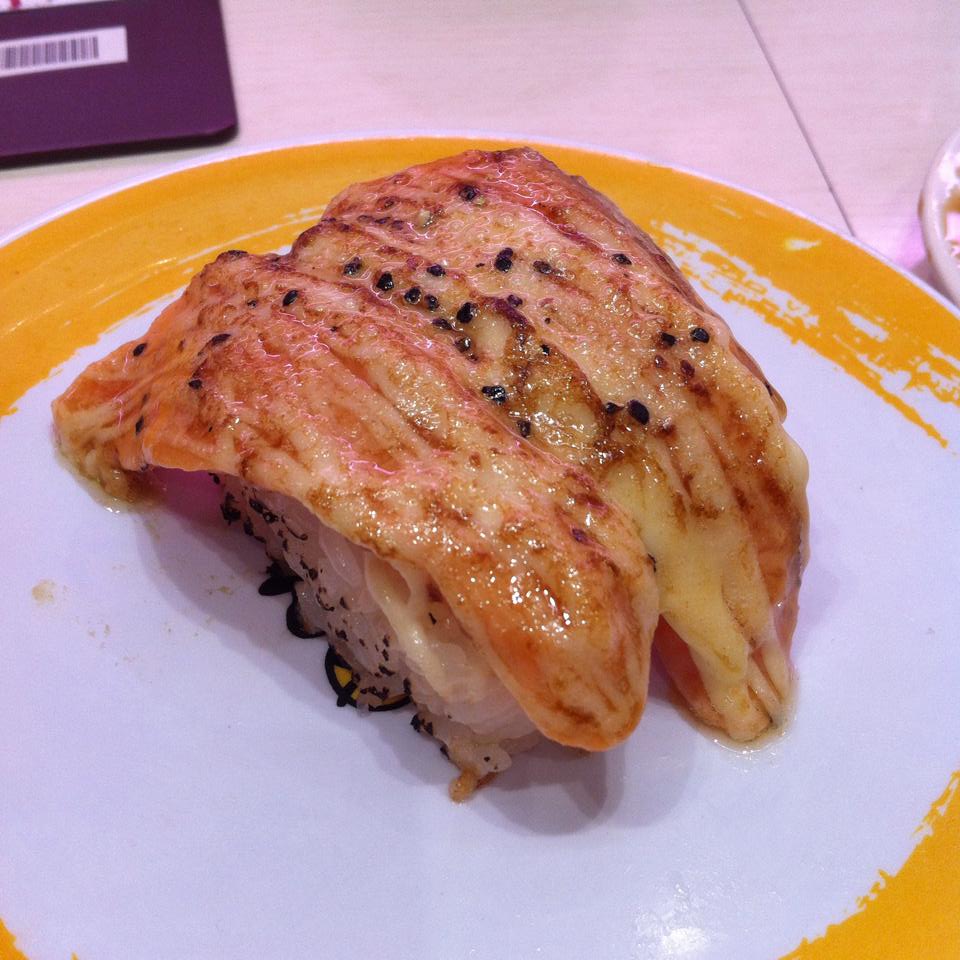 Ordering my meal from a machine in Akihabara
It was late at night, I was hungry and I wanted food fast. I had seen restaurants scattered around Tokyo where you ordered and payed for your meal at a machine at the front of the store, then gave the slip to a waiter/waitress and looked forward to your food. Like many things in Japan this scared me a little. I'm not a fussy eater but I like to know what I am eating. One night in Akihabara I took the plunge and decided to try.
What's the worst that could happen right?
Despite eating in a small dingy place In Otaku central, the food was fresh and appetising. Service was gret too and they had free water, like every restaurant in Japan. The food above cost about 450 yen, less than $5!
Sukiyaki
As you know I love trying new foods. I walked past a restaurant in Asakusa and saw locals huddled on benches and eating from BBQ like contraptions. The place was cheap so I decided to have a look and try something new!
I've never had Sukiyaki beef before. I just knew that I wanted to order the meal with the BBQ contraption. As I now expected, I was not dissapointed. I was surprised to be served a raw egg but I wateched how the locals ate their food and proceeded to plop the egg into the BBQ beef. The egg cooked a little, as did the beef. Do delicious and so cheap! Just $6.5o for a mini feast!
Ramen
Ramen is one of the most famous Japanese dishes and I was very excited to try it. I was walking around Ueno, a cool area that's a bit grittier than other areas of Tokyo and I saw a packed Ramen place. Curiousity got the better of me and I decided to try Ramen for the first time. I sat down and was confused by the Japanese menu and thanked my lucky stars that the menu had photographs. I ordered gyoza to start and the classic pork ramen and helped myself to free tea.
When the waiter placed the steaming hot bowl of Ramen in front of me, I was surprised by the sheer size of the bowl! How was I going to finish it? You certainly get value for money with some Japanese dishes. Before I came people told me that the portions tended to be small but I've found the opposite to be true.
Ramen was hot and filling and would be perfect on a cold winters night.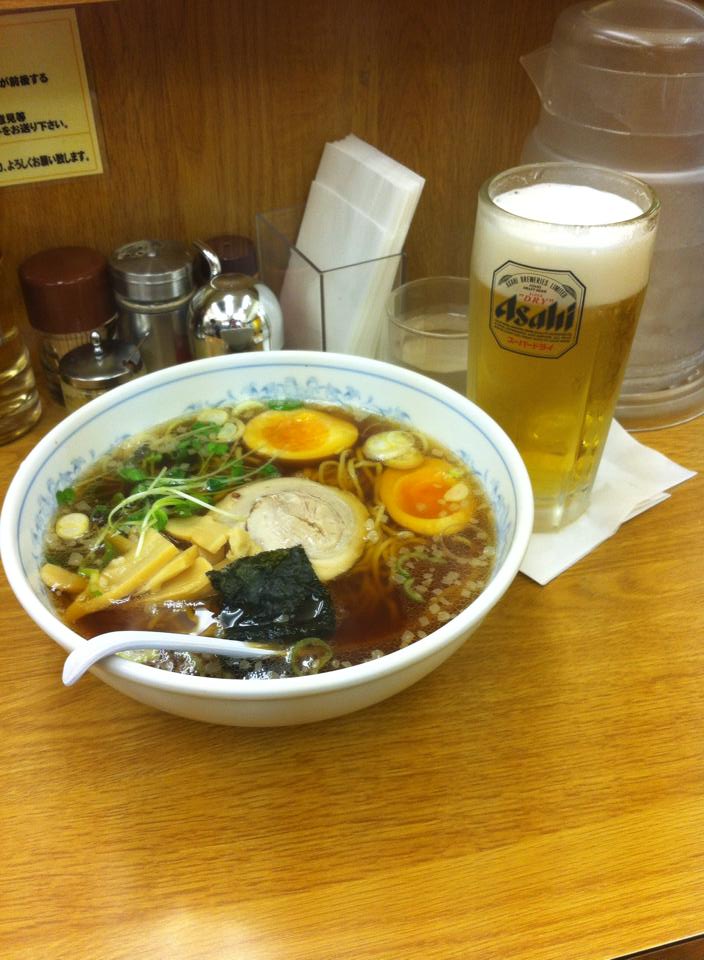 Starbucks Frappes!
Hmm. I know that starbucks is not traditionally Japanese but I think that Starbucks is a great place to try popular Japanese flavours. Whilst in Tokyo I tried Matcha (green tea) frappes and a deliciously delicate Sakura and white chocolate frappe! It's such a  shame that they don't have a Starbucks in my small town of Nasushiobara.
Where better to enjoy a Sakura frappe than at the Starbucks overlooking the famous Shibuya crossing? I scored a coveted seat and watched the fast paced life of Tokyo pass before my eyes. Wondering how people manage to effortlessly avoid each other whilst walking across the crossing. I guess it's a Japanese thing.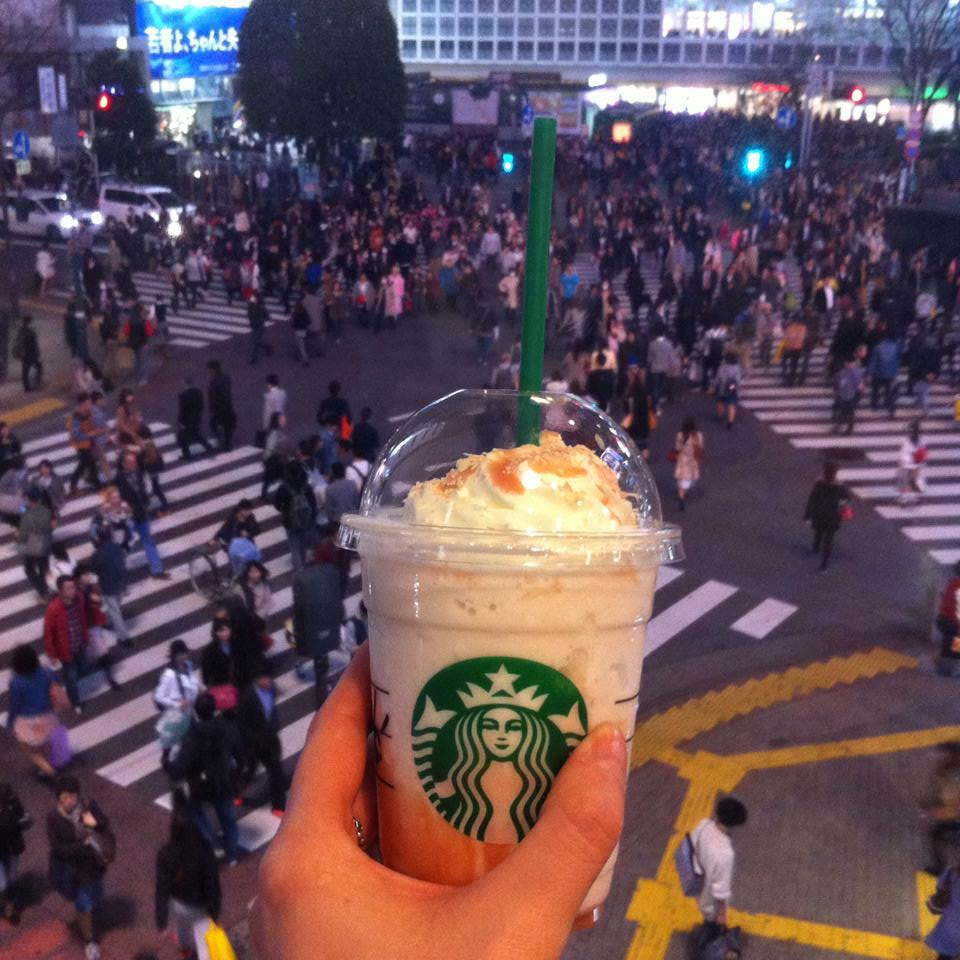 So there you have it, my first foray in to Japanese food! Please remember that all the foods mentioned above are budget food. I'm a budget traveller so try to eat cheaply for the majority of meals and treat myself for special occasions (Or just when I feel like it).
Japan is the country with the most Michelin stars in the whole world. Although I don't think Japan has the tastiest food available, the care of preparation and the quality and presentation of ingredients is second to none. I hope to try more upmarked food in Tokyo and Japan whilst living here, maybe even dine at a restaurant with a Michelin star…
Have you ever tried Japanese food? If so what did you think about it? Have you ever dined in a Japanese restaurant with a Michelin star? As always I'd love to hear your thoughts.