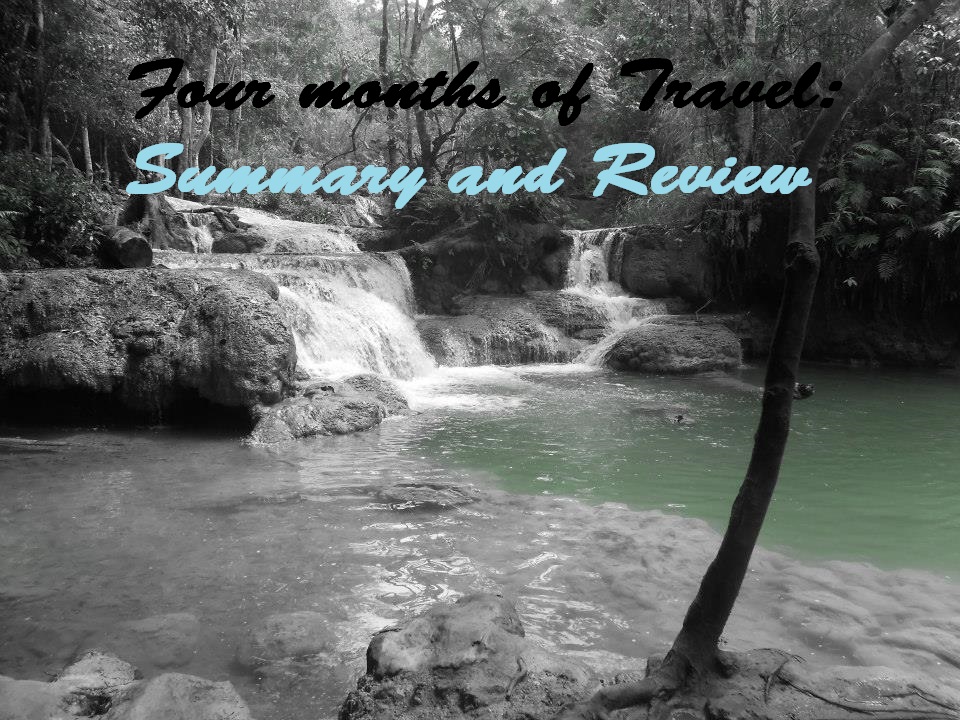 This month has been the hardest in terms of homesickness and loneliness on the road. Despite meeting many great people on my travels It's sometimes hard travelling solo. (Read about my tips for combating loneliness on the road here).
I found it especially hard travelling solo as a female through Laos. Many Laotians are lovely, friendly people but a few of the men seem to treat women with disrespect and I was treated harshly a few times in this beautiful country.
It also surprised me to see women take on the majority of the hard labour here. I saw mostly women tending to the many rice paddies and old ladies carrying really heavy loads on their backs and heads.
This is a country where chivalry is certainly dead!
Nevertheless I had an amazing time in this diverse country. I took the slow boat to Luang Prabang and met some amazing people who I ended up travelling with for a week.
I then set up home in backpackers utopia, Vang Vieng. I spent my days enjoying Western comforts and pushing myself out of my comfort zone by trying new things.
After spending far too long in Vang Vieng and feeling quite lonely the travel bug bit me again. I love history and wanted to learn more about the atrocious 'Secret War' that occurred during the Vietnam war.
I travelled to Phonsavan, the most bombed place in history where there are more un-exploded bombs than anywhere in the world. (Sorry Mum). Whilst there I also visited the Stone Henge of Asia; the mysterious Plain of Jars.
I then visited Sam Neua, a town on the border of Vietnam where they eat Dog. (Urgh!) A town where I spotted just 4 other 'Falangs' and I enjoyed the stares of the curious locals.
The reality of life during the secret war was brought to life in the Vieng Xay caves where the Lao PDR operated during the war and where 20,000 people lived during the incessant carpet bombing from the Americans.
I then experienced small town life in Lao after the 12 hour local bus ride from hell. Nong Khiaw and Muang Ngoi were breathtakingly beautiful and enabled me to de-stress and prepare for the next part of my journey….
Vietnam!
So month four has definitely been a rollercoaster month. Many ups and downs but I have had some of the best experiences of my life in Laos and I learned how to travel with a purpose and learn about the history of the places I visit.
Total countries visited= 2,  Thailand and Laos
Hammocks used= 1 in Muang Ngoi, Laos where I had a riverside bungalow and spent the day reading about the Khmer Rouge whilst relaxing on my hammock
Boxes sent home= 1, full of sarongs from Laos which is going to be my new look when I get home; Vintage Asian 🙂
Modes of transport= Overnight bus,12 hour local bus, minibus and the slow boat to Laos.
Number of times I went tubing= 2, It's the thing to do in Vang Vieng! Oh and once in a cave too…
Lessons I have Learned= Travel is not always easy but I need to remember the good times when I'm going through the hard times. I'm so lucky to be travelling Asia and I have become so strong by making this trip alone.
Number of Massages= Just 3 this month.
Free drinks consumed= 8
Number of herbal steam baths shared with ladyboys= 1, I am in South East Asia after all, not everything is how it seems….