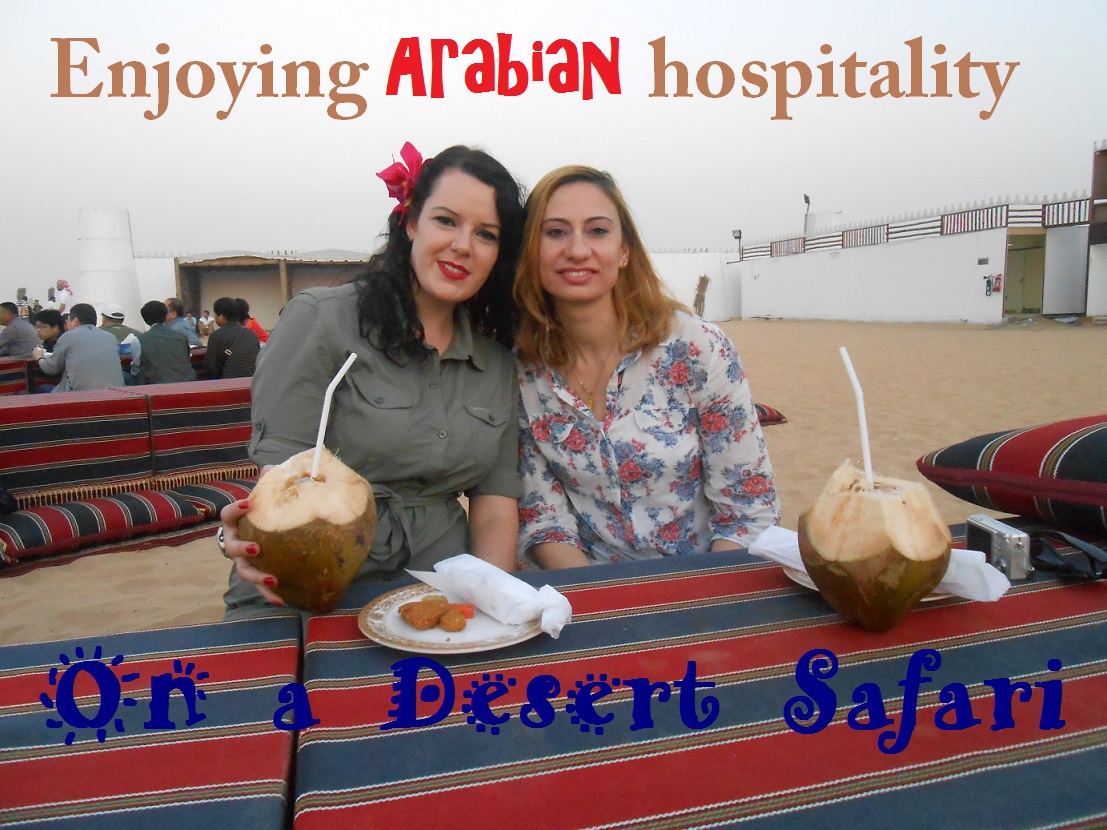 Whenever I mentioned that I was going to Dubai to people who have been before, they all said that there was one experience that I should not miss out on-
The Desert safari!
To be honest I was a little confused at first. I always thought that the desert was a barren place with limited wildlife, what animals would I be able to see on a desert safari apart from the odd camel?
Then after a little research I realised, it's more of an Arabian experience than a desert safari!
The safari bit of the experience is what is known as 'Dune bashing', riding a 4 by 4 through the desert near to Dubai. Going as fast as possible over the sand dunes and spinning and hand break turns that envelope the car in a cloud of sand. This part of the safari did not disappoint. The driver was a local Emirati man and luckily we led the procession of cars through the desert. I would liken it to a roller coaster experience but in a car. Luckily the car had an internal cage, just in case…..
After the adrenaline rush of Dune bashing we made our way to a 'Bedouin camp' in the middle of the Dubai desert. Tables with cushions on the floor surrounded a centre stage. I quickly made friend with another solo traveller from Egypt and we then set out to explore the many things to do at the camp before dinner!
Henna and Shisha
Our first stop was the tent that was offering hand henna. I have never had henna on my hands before so was dying to have a design drawn on my hand. I was very pleased with the result! After an hour the henna starts to fall off leaving a brown/red colour stain that darkens the next day. It looked beautiful! Little did I know that this was the start of a henna addiction….
We then made our way to the Shisha tent. As you know I love Shisha (Even though I don't smoke!). We shared a mint shisha and somehow became the main attraction of the camp! A massive group of Chinese tourists took a shine to us and proceeded to photograph us secretly as we smoked the Shisha. Some braver members of the group actually sat in between us and smoked our shisha so their friends could take photos of us. It was weird that they wanted to take photos of two 'Western' girls when there were women in traditional Arabic dress all over the camp!
Riding a camel
Next up was what I was looking forward to most…..Riding a camel! Believe it or not Chinese and Japanese tourists proceeded to take photos of us the whole time that we were on the camel! I just smiled and acted like people took photos of me all of the time!
I didn't realise that it's so high on top of a camel. I'm used to riding tall horses but the camel was taller than any horse than I have ever ridden! Suprisingly it was a smooth ride although I think that was because the camels were so well trained. Luckily the camel did not spit at me too.
Before Dinner I had the opportunity to hold an Eagle and got some pretty impressive photos! Falconry is the sport of Arabian kings, do you think I could be an Arabian queen?
We were then treated to a magician show before dinner. My Egyptian friend even bought me my first coconut to drink! Once again I didn't realise that this would lead to an addiction to coconuts…..
Arabic clothing
We had the opportunity to try on traditional Arabic clothes. The ladies outfit was an abaya and a burka. I had really wanted to try on the abaya and burka to see if it was an oppressive garment. When I first looked in the mirror after trying on the outfit It just didn't look like me. It's the opposite to clothes that I usually wear; I prefer figure hugging clothes not shapeless sacks. I also like looking individual. It's impossible to look individual in an abaya; i guess that's the whole point of it.
I was surprised to say that it felt quite nice and comfortable to wear. I felt quite mysterious too which I kind of liked.The sleeves had a beaded design and I was told that abayas very often have small details that make them different. They are not all just plain black sacks.
I can see how it's a practical design in the desert but the fact that it's black makes it oppressive, it must absorb heat. Trying it on was certainly an experience and made me look at abayas and burkas in a different light.
At the camp there were quite a few women wearing abayas and burkas. They acted just like normal twenty something women. Complimented me on my nails and henna and we laughed and joked about things. I did notice that the younger ladies had very detailed eye make up and individual eyebrows. I guess that is the only originality that they can show to the outside world. Which is kind of sad.
Arabian buffet
Dinner was an Arabian buffet consisting of rice, salad, curry and a BBQ. Surprisingly women had to used a different buffet than the men. This just added to the exotic atmosphere, I was in the Middle East after all!
The entertainment was world class. Belly dancing and a whirling dirvish stole the show! When the entertainment ended I didn't want to leave the camp!
Overall I would highly recommend the desert safari. Dubai is a very modern city and you can sometimes forget that you are in the Middle East. Even though it's clearly geared towards tourists it's such an enjoyable thing to do and it gives you a glimpse of what nomadic life must have been like in Arabia! It only cost 160 Dirhams too!
I felt like I was in Aladdin!
What do you think about the Arabian desert safari? Do you think traditional Arabic dress is practical, cultural or oppressive?