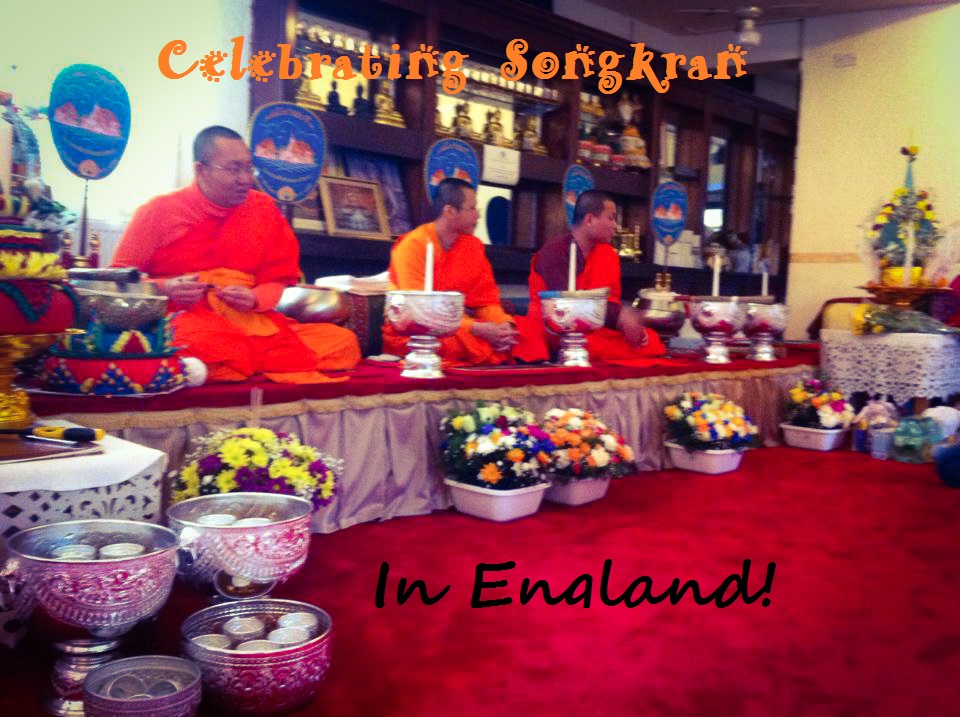 Today I attended Songkran celebrations at a local Buddhist temple. The experience was very different to when I experienced Songkran in crazy Bangkok with fellow travel blogger George on the go!
In Thailand Songkran is a crazy celebration. People of all ages take the streets by storm and cause havoc soaking passers by with super soakers, buckets of water and smear their faces with clay. It's a very special celebration and it shows how highly the Thais value 'Sanuk' in their everyday lives. I had recently read an article online that said that scores of people were injured during the Songkran celebrations and that over 200 people had actually died. It is chaos on the streets during Songkran in Thailand, no one is exempt from a soaking, even people riding scooters! The article I read seemed to be spreading fear and had many other links stating 'why Australians shouldn't travel to Thailand' so the figures may have been exaggerated…
I knew that there was a Buddhist temple in the next town to where I lived but I had never summoned up the courage to go. After seeing an advert in a local newspaer I decided to see what the temple would do for Songkran so I could compare my experience from last year.
I knew that the temple had a number of Thai monks from the original Wat Pra Singh  situated in Chiang Mai; Northern Thailand.
I actually visited the sister temple when I was in Chiang Mai!
As I pulled in to the car park I was atounded to see a car park attendant. I had thought that Songkran would be a fairly small celebration in Runcorn because very few people are Buddhist. I arrived ten minutes early and the car park was heaving, luckily I got the last space.
As soon as I exited my car throngs of giggling Thai girls in traditional dress scurried past me. The car park displayed both the Thai and British flags side by side. As I walked in to the temple it was full of Thai men, women and children giving alms to the monks on the stage. It was totally not what I was expecting and was a pleasant surprise. I never knew that so many Thais lived in my local area! I live in a working class Northern town that sees very little immigration.
I removed my shoes, sat down in the altar room and found a space amongst the bustling bodies. I was astonished to see only four other 'falangs' in the room and the room was full of Thais! The service was completely in Thai and I was transported back to Asia when I meditated. It felt so familiar and comforting in a weird way.
It's hard to think that South East Asia was my home for seven whole months last year.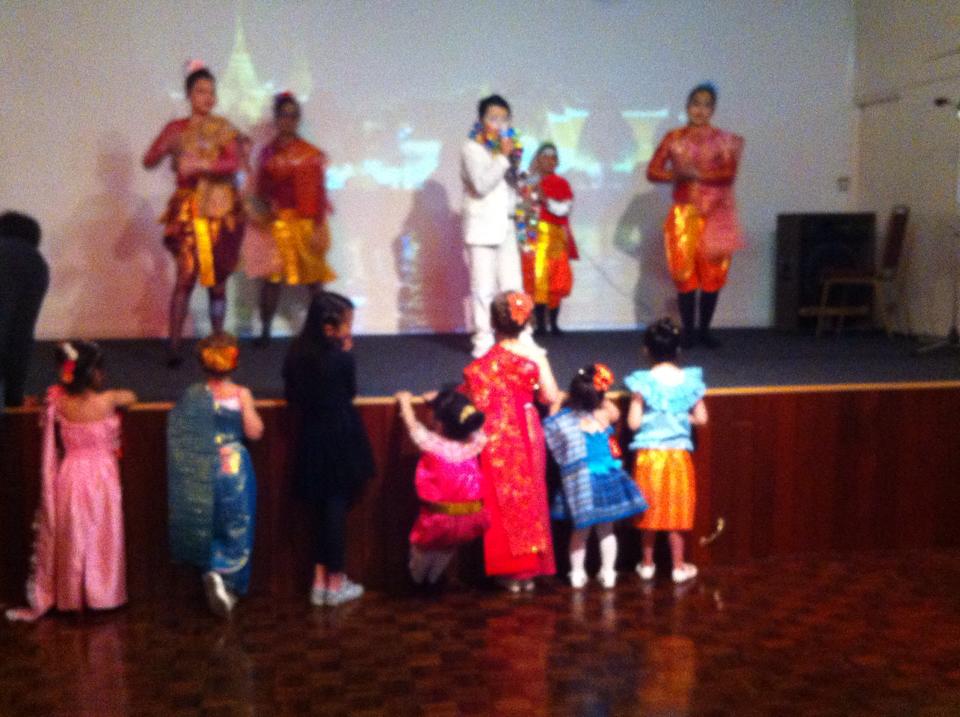 After the chanting we poured out of the temple and ate some very authentic Thai food. Eating that Thai food brought back so many memories of when I lived in Thailand: The time I lived with an ex monk, the time I trekked in the Thai jungle and my first time eating Thai food on a street corner in Bangkok. There were a few stalls selling traditional Thai food and it was nice to see people eating their food communally on the floor, the Thai way! There was also a bouncy castle for the children.
Sogkran was more of a family celebration and I felt quite alone strolling through the crowds solo. I occupied myself by taking photographs of the hustle and bustle and admiring the Thai girls all dressed up in traditional dress ready for the 'Miss Songkran' beauty contest.
In a nearby social club there were displays of traditional Thai dancing. It was so nice seeing everyone getting their elaborate costumes ready at the side of the stage and the children dancing enthusiastically to the acts. I had to pinch myself once or twice and remind myself that I was in a working mens pub in a Northern town and not Bangkok!
After the dancing there was the Miss Songkran competitions; both Thai and English girls were both encouraged to enter, It would be hard to beat the exotic Thais at their own game though!
I've been feeling quite down about being back in the UK recently, It's been five months now since the end of my RTW trip. 'Normal' life is very different to nomadic life. This little slice of Thailand made me feel a little less homesick for South East Asia.
It was just what I needed.
Have you ever celebrated Songkran in Thailand or your hometown?