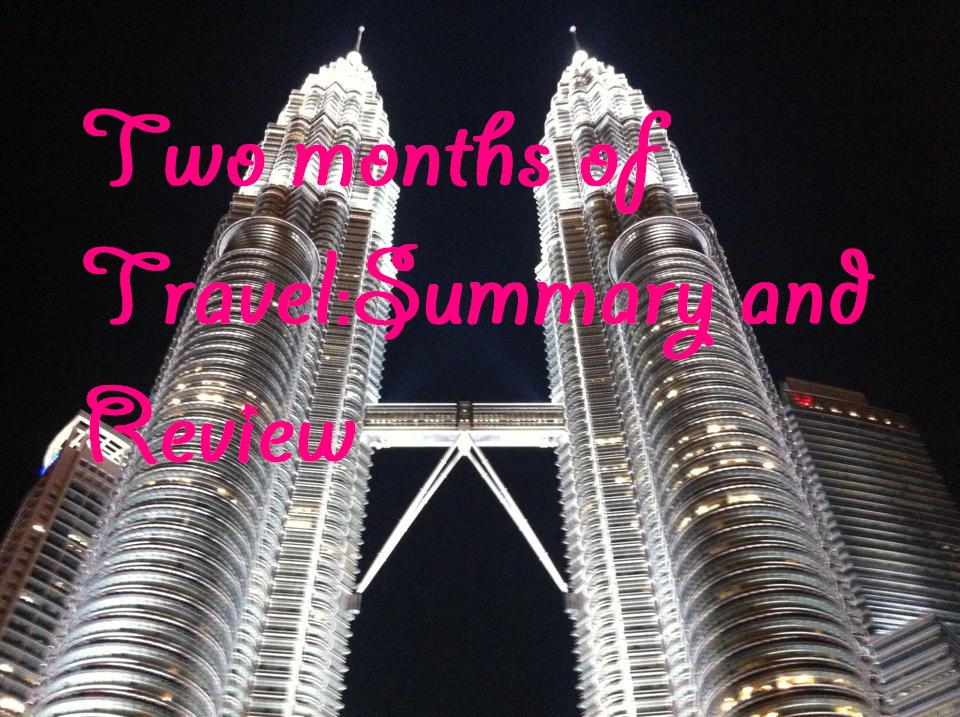 It's hard to believe that I have been travelling for over two months now. In the real world two months is a long period of time but when travelling the days and weeks blur in to one. It's so refreshing not having any responsibilities and to just do what I want each day! (For most days this involves a beer or two…)
I'm currently in Koh Chang, an island on the East coast of Thailand. It has a very chilled out hippy vibe and quite a good night life! I'm staying in a (very basic) bungalow right next to the sea and I fall to sleep each night to the sound of the jungle. Worlds away from the craziness of Bangkok!
So where have I travelled to in the past month?
Singapore- I spent my first three days in Singapore visiting the various museums and art galleries and just soaking up the culture. The history of Singapore fascinates me and how it's a perfect mix of East meets West. After a while Singapore started to feel quite sterile. Although I loved the city I longed for a more 'Authentic' travel experience. Singapore was a perfect city but I feel that it's best visited with people. It was very romantic.
Malaysia- I didn't know what to expect with Malaysia. I actually forgot that I would have to go through Malaysia to get to Thailand at some point so I didn't really research it. I needn't have worried. Malaysia was very easy to travel through and very different to what I was expecting.
Melaka and Penang were very charming cities with beautiful quaint architecture and 'hipster' cafes and bars.
Kuala Lumpor was no where near as exotic or exciting as I was expecting. I loved seeing the Petronas towers but I wanted to leave as soon as possible
During my time there I met some amazing people and fell in love with Malaysian food, especially mee goreng!
I explored the West coast but I can't wait to explore the East coast, I hear that it's such a beautiful place and so different to the West coast which I found quite commercial.
Thailand- I've now been in Thailand for over two weeks and am loving the Thai people. They always seem to be giggling or eating! My kind of people! I hope to learn more Thai during my time here and maybe volunteer at a school at some point. It will be good to have more structure in my day.
I celebrated Songkran in Bangkok which was just out of this world! I can't wait to tell you all about it!
I also had some crazy (Hangover 2…) nights out and experiences in Bangkok, the city really stole my heart and I now class it as one of my favorite cities in the world. (After my beloved Liverpool of course).
Total countries visited= 3, Singapore, Malaysia, Thailand
Languages attempted= 1, a small amount of Thai. I'm ashamed to say that I didn't even attempt Malay but everyone just spoke English to me. I will learn some for when I visit the East coast!
Mosquito bites= 1064 (approx, mostly from having to shower outside here in Koh Chang)
Boxes sent home= 1, I sent one box of clothes that I don't wear and souveniers back home which weighed 3kg! My bag is a lot lighter, phew.
Modes of transport= Overnight train, bus and ferry. The standard of the buses seems to be decreasing the further North I go, I can't imagine what the buses are like in Laos….
Pizzas consumed= 0, Haven't I been good! I'm trying to eat mainly Thai food and avoid snacks at the moment. I went a bit overboard with Western food in Malaysia and Thailand.
Beaches sunbathed on= 1, lonely beach in Koh Chang which must have the shallowest water in the world! It's literally a foot deep really far out!
New clothes Aquired= 2 dresses in Bangkok, 1 Chang vest and 1 Malaysian style top from Melaka.
Lessons I have Learned= That it's very hard to be 'vintage' when travelling! It's so hot that you sweat loads and in the bungalows where i'm staying now there is no mirror or sinks! Seriously!
To do list=
I need to research volunteering options in Thailand and work out where I want to go next.
I also want to go trekking in the Jungle here, now that would be an experience and some well needed exercise!
What do you think of my second month of travel? Should I have given Kuala Lumpor more of a chance? Where should I visit next in Thailand?