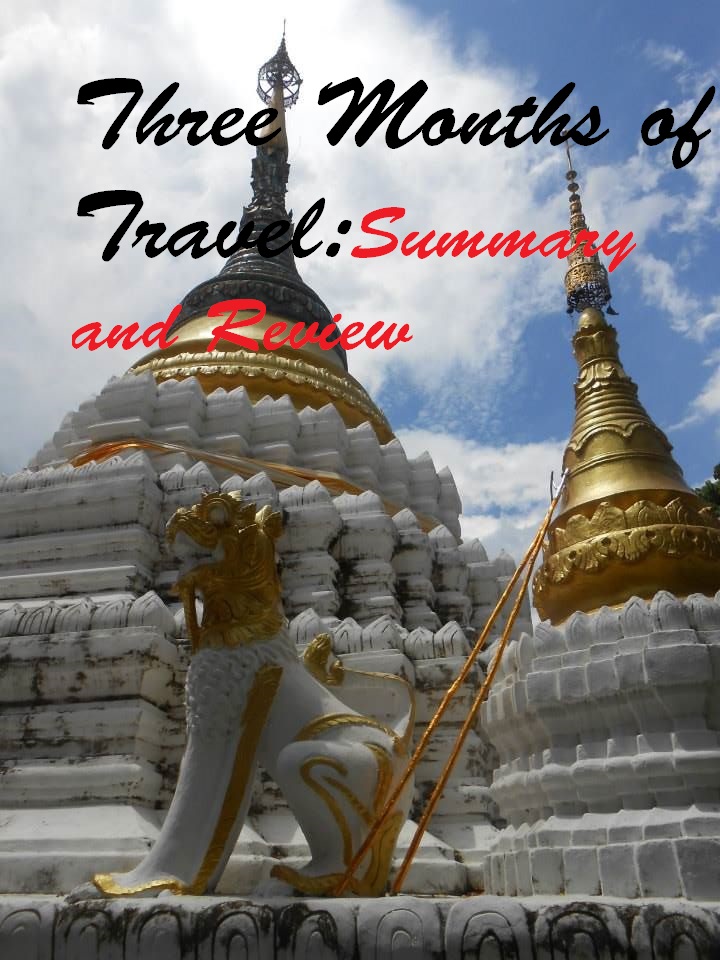 My third month of travel has been filled with many ups and downs. The major downer on the month was when I contracted Dengue fever in Koh Chang. It was the hardest time so far in my travelling and I was so ill that I was going to go home ASAP! Something made me want to stay though and continue travelling.
That was the best decision that I could have made!
Luckily I recovered well even though I was quite weak for a few weeks and had to retire to my room for an afternoon nap each day when I started to feel dizzy.
From Koh Chang I travelled to the North of Thailand to the amazing city of Chiang Mai. I made the most of the vast array of international food available and I stuffed my face with Tacos, Sunday Roasts, burritos and cheese and Branston pickle sandwiches……. With the odd bowl of Kao Soi thrown in for good measure!
I stayed in Chiang Mai for over a week, relaxing, walking and exploring the many beautiful Wats and Temples. After a week I felt bored of relaxing and decided to go on a three day jungle trek which was one of the best experiences of my trip so far!
For three days we trekked up and down the Thai countrysides various hills with our crazy guide Ping Pong who was hilarious. For some reason we started trekking just as the midday sun started to blaze down upon us. Thai logic!
I also got to experience riding an Elephant (again), white water rafting and bamboo rafting down the river.
It's surreal that in the past three months I've ridden Elephants and Camels but not Horses! I really miss horse riding actually!
Feeling brave after all of my adventurous activities in the Jungle' i decided to volunteer at Happy Healing home which is located in the Mountains not far from Samoeng with the intention of learning about meditation from an ex monk.
Unfortunately the Happy Healing home was not so happy for me due to a variety of reasons that I will be writing about in a future blog post. I also learned very little about meditation.
Even so it was a unique opportunity to live with a Lanna family and learn how an organic farm works. I have honestly never been so dirty in my life! Covered in sweat and mud each day and I didn't look in a mirror or wear a scrap of makeup the whole time I was there!
After two days of recovering from my farm experience in Chiang Mai I am now in the charming hippie town of Pai a little further North. My Thai Visa runs out soon so I will be moving on to a completely new country; Laos!
Total countries visited= 1, I've been in Thailand for the whole month!
Tropical diseases contracted= 1, Dengue fever in Koh Chang. Damn you stupid mosquitos!
Boxes sent home= 1, full of souvenirs from Chiang Mai.
Modes of transport= Overnight train, bus and ferry. The ride to Pai was a particularly crazy bus ride, the road has hundreds of sharp corners!

Hospital visits= 3, The hospital in Koh Chang was very posh and safe but also very expensive! What kind of hospital has fountains outside?!
Lessons I have Learned= That I am now officially a hippie and it's something that I have to embrace. I now describe places as having 'negative energy' and 'bad vibes' and I even visited a Taoist healer for an abdominal Chi massage. I have also hardly worn makeup in the past month and basically lived in my hippie pants!

Axes used= 1, at the 'Happy' healing home I cut logs with an axe and asaw. How bad ass is that!
Monks chatted with= 3
Hill tribes visited= 2, Lisu hill tribe and the Meo hill tribe.
Can you believe that I have been in Thailand the whole month? Would you have done the same as me and continued travelling after contravting Dengue fever or would you have booked the first flight home?
As always I love hearing your thoughts and comments!