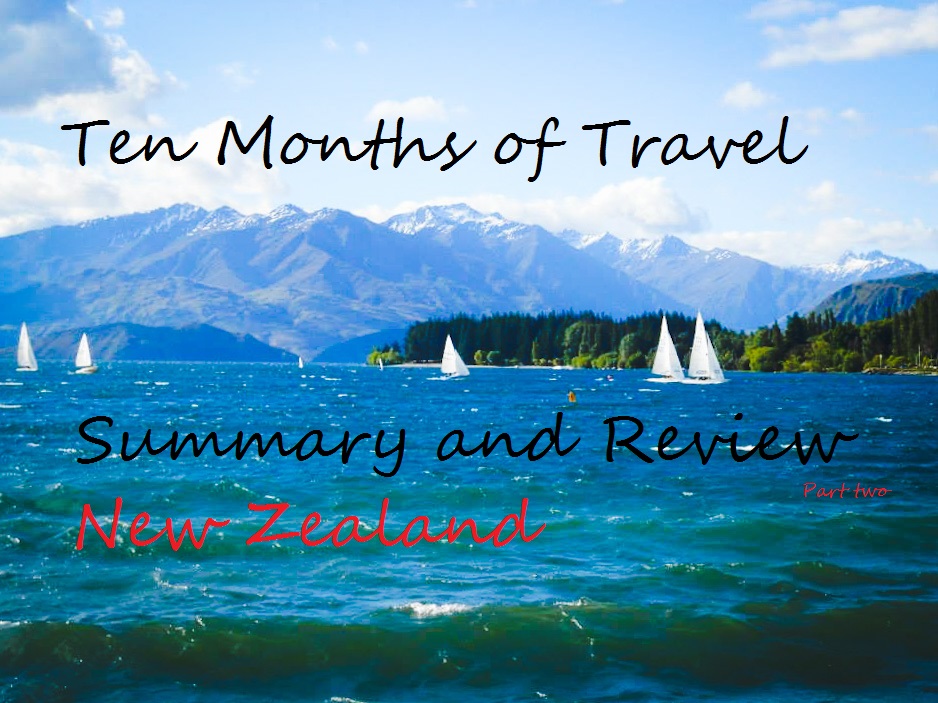 Throughout my travels people had hyped up the South island so much I was actually scared that I would be disappointed. I'm glad to say that the South island actually took my breath away at every spot that I visited. The landscape is so diverse and untouched that it sometimes seemed too beautiful to be true!
We woke up early in the morning to catch the ferry to the South Island. For some reason the Kiwi experience lot dropped us off far too early and we spent hours waiting in the ferry terminal. By now I had developed an addiction to New Zealand chocolate and could easily devour a large bar of Whittakers in a day…
The ferry was really comfortable with affordable food so I decided to treat myself to even more treats. Unfortunately the weather was quite bad so the upstairs deck was closed. The ferry passes through the beautiful Queen Charlotte sound and our guide said that you can sometimes see dolphins and even whales!
Kaiteriteri
One of the most beautiful sounds in the world is 'Kaiteriteri' said in a Kiwi accent! We only spent one night in this beautiful place, I could have easily spent a week there. The beach was absolutely beautiful and apparently the weather here is beautiful all year round!
Westport
The drive to Westport was absolutely beautiful and I was starting to believe the hype of the South island.
In the evening we went on a little trek along the coast and spent the night around a campfire on the beach. Another beautiful experience that made me glad that I chose to explore this beautiful country with the Kiwi Experience.
Lake Mahinapua
The drive to Lake Mahnipua was along the coast and the scenery really blew me away. The scenery seemed to be getting better and better the more South we headed! Our guide said that most of this part of New Zealand hasn't changed since the Jurassic period. There was something so uplifting about seeing scenery untouched by man.
Lake Mahnipua was a peculiar stop. There used to be a quirky old guy who worked at the pub near the lake who was quite a personality but he had recently passed away. We had a fancy dress night where people bought outfits from the local town. I decided not to spend $ on my fancy dress outfit so simply bought a sailor hat and wore a stripy top…
Before the party we had a delicious meal together of steak. I preferred staying in small hostels in New Zealand because we felt like more of a group. In the evening everyone had a great laugh and some of the outfits were amazing considering the limited time we had to plan them!
People said that the lake was beautiful too but I forfeited a walk on the lake for a well needed nap…
Franz Josef
I opened my mouth in awe as the big green bus headed towards magnificent snow capped mountains and shiny white glaciers. The small village of Franz Josef was sophisticated with the most beautiful views of the imposing mountains and kettle lakes.
My time in Franz Josef was action packed, I hiked on the vast glacier one day and Kayaked on a beautiful reflective kettle lake the next. I felt like a great explorer in Franz!
One evening we even went in search of glow-worms along a dark path. It was a lot cheaper than paying $40 to see some captive ones in a cave in Waitomo!
Wanaka
Wanaka, oh Wanaka. Every day in New Zealand I would see the most beautiful scenery in the world. I don't think anything can beat the view from the beach in Wanaka. Lush green mountains, beautifully blue lake Wanaka and views of snow capped mountains in the distance all topped off with a quirky tree in the lake!
Wanaka is seriously beautiful but I found the actual town to be quite boring.
It was a friends birthday so we enjoyed an Indian and a few beers in a local restaurant and had an early night in anticipation for the early ride to Queenstown.
Queenstown
Queenstown is probably the liveliest place in New Zealand's South Island. The whole town has a really cool chilled out vibe, there's loads of restaurants serving most types of food and it has an amazing nightlife!
My time in Queenstown was spent on a bar crawl , eating numerous types of burgers from the amazing 'Fergburger', shopping and(Where we visited an Ice bar!) checking out the beautiful scenery around the lake.
I decided to Bungy jump in Queenstown and two of my friends even did a tandem jump!
Milford Sound
Prior to this trip I'd heard that Milford sound was supposed to be one of the most beautiful places on earth so I booked an excursion to go on a cruise there with high expectations.
Milford sound was beautiful, not as beautiful as other places that I'd seen in New Zealand though. The boat tour felt very touristy and although enjoyable was not a highlight of the trip.
Christchurch
On the way to Christchurch we stopped off at lake Tekapo, a lake that could rival lake Wanaka for it's beauty! It's the most beautiful turquoise blue colour and we visited a little chapel that overlooked the lake, apparently its booked up years in advance, and I could see why!
I was a little bit apprehensive about visiting Christchurch because of the earthquakes that devastated the city a few years back.
I found Christchurch to be a city of opposites. In one way it was a city of devastation, it was creepy to walk around at night because the streets were empty. It has little to no nightlife and you can feel sadness when you walk around this once great city.
On the other hand it's a city of hope. In the day the streets are full of families enjoying street performances or bites to eat in the quirky refurbished centre which is now the Re:start mall where the shops and restaurants are housed in brightly coloured shipping containers!
Christchurch was where I said goodbye to all of my Kiwi experience friends. Everyday we said goodbye to someone until I was the last one left.
New Brighton

Due to unexpected circumstances (That I will talk about in a future blog post!) I spent my last few days in the normal working class seaside town of New Brighton. It's not really a place that attracts travellers, more people on a working holiday visa.
It was nice to spend the last few days of my trip on the beach though. Before I knew it I was on a plane that would take me to Dubai for a night and then back home to spend Christmas at home with my family and friends.
So this concludes the monthly roundup of my big trip! Have you ever travelled with the Kiwi Experience gang? If so what did you think? How did the North Island compare to the South Island? Did you love Milford sound more than me? 
Please ask me any questions you like!