New Years-eve in the UK usually consists of either a house party, paying an extortionate amount to drink at a bar you go each week or freezing to death outside whilst watching fireworks tumble into the sky as the clock strikes 12.
Pretty tame eh?
When I was travelling on my RTW trip, I was so excited to see that I would be in Bangkok during Thai New Year (Songkran). A few days prior I had holed up in a smart hostel in Silom, a place where I'd heard would be the centre of the action. I met a travel blogger friend at the hostel and on the first day of Songkran we walked outside the hostel totally unprepared for what was about to happen.
Cold water rushed up my nostrels and in my eyes the second I went outside. As soon as I gained my vision I could see three young Thai children all aiming at us with big, powerful supersoakers in their slender arms.
So this was how they celebrate New Years in Thailand?
Songkran is a three day holiday from April 13-15. It's essentially one big water festival and the streets of Bangkok hault to a standstill for three days whilst young Thais have the ultimate water fight. The water represents  purification and the washing away of sins and bad luck.
However for many Thais and travellers it's just three days of Chaos!
And no-one is safe! 
I saw a family check into a hotel across the road. As they struggled with heavy bags they were soaked from all angles and a cheeky boy even ran across and smeared thick clay across the fathers face.
I've never seen anyone look so angry!
Songkran is not the time to get pissed of at people soaking you with water. Be prepared to be soaked for three days straight so make sure you check in to your hostel at least the day before to avoid unwanted attention.
If you are prepared, you will have an incredible time. One you will never regret and a chance to bond with the funny, cheeky and smart Thai people.
Super soakers
The first thing to do is choose your weapon. We chose the biggest and most expensive super soakers we could find and I think It's a sound investment. Having a big water gun means that you can soak people far away. Handy when people are squirting you from moving motorbikes, buses or pick up trucks! (Yes I don't think there is any health and safety in Thailand!).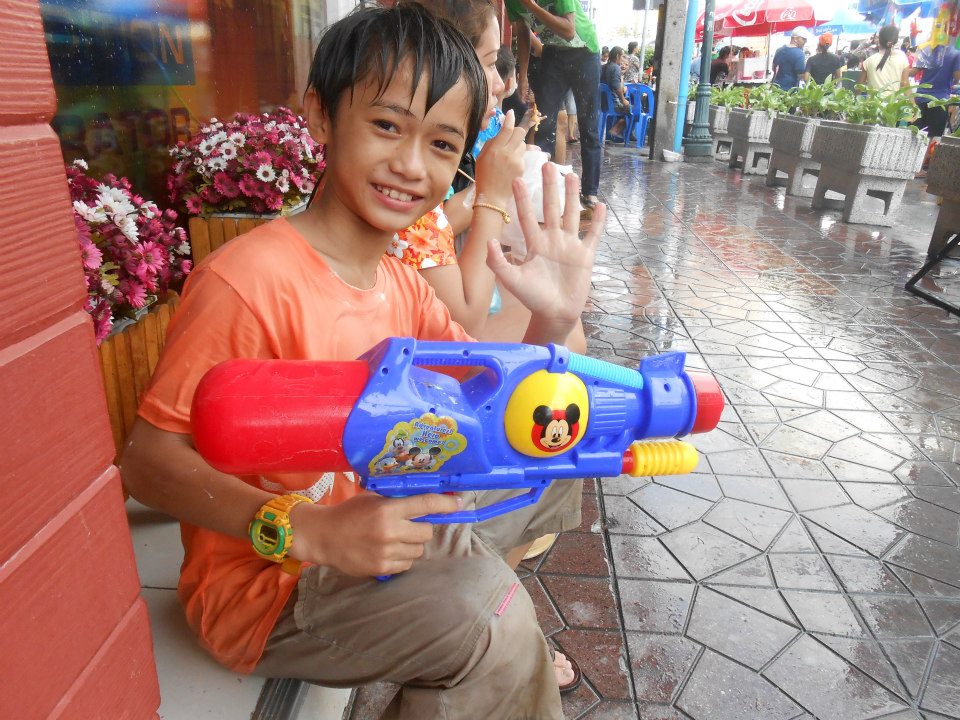 Clay
Many people in Thailand wear clay on their faces daily as a form of sun protection. During Songkran it's tradition to wipe a small amount of clay on peoples cheek and wish them a 'happy new year'. My first encounter with clay was when an extremely attractive Thai guy slowly smeared the cool clay across my cheek in Silom. After that I was hooked and would wipe clay on any attractive passers by!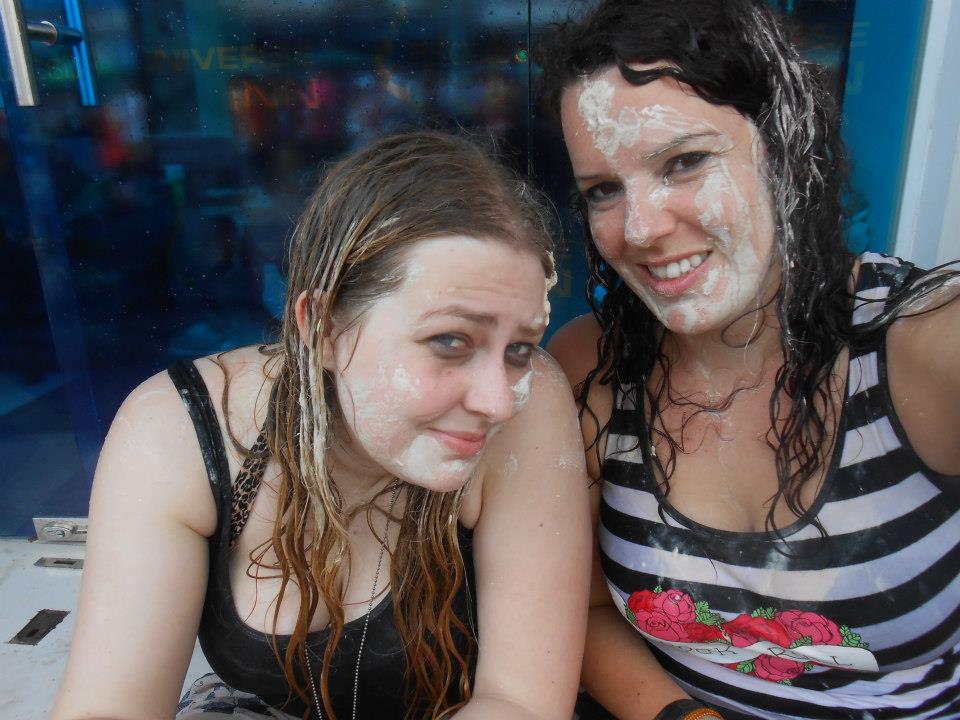 Buckets
Oh the dreaded buckets! In Thailand buckets are usually associated with drinking large volumes of alcohol at night in Khao San road. During Songkran some cruel souls pour whole buckets of ice cold water over unsuspecting victims. In the heat of the day this can feel heavenly but as the sun sets it feels absolutely horrible. Just remember to get them back with either your supersoaker or clay bucket.
Khao San and Silom
Khao San Road and Silom are the epicentres of the celebration . The roads close and the areas become unrecognisable for three days as thousands of revellers pass through the streets. There is such a party atmosphere, loud dance music plays and there are stalls selling alcohol and water top ups at the side of the road. In Silom there were Thai girls in skimpy outfits performing on stage (They still got soaked!) and a Thai fire truck absolutely blasted gallons of water everywhere in the street.
It really was crazy!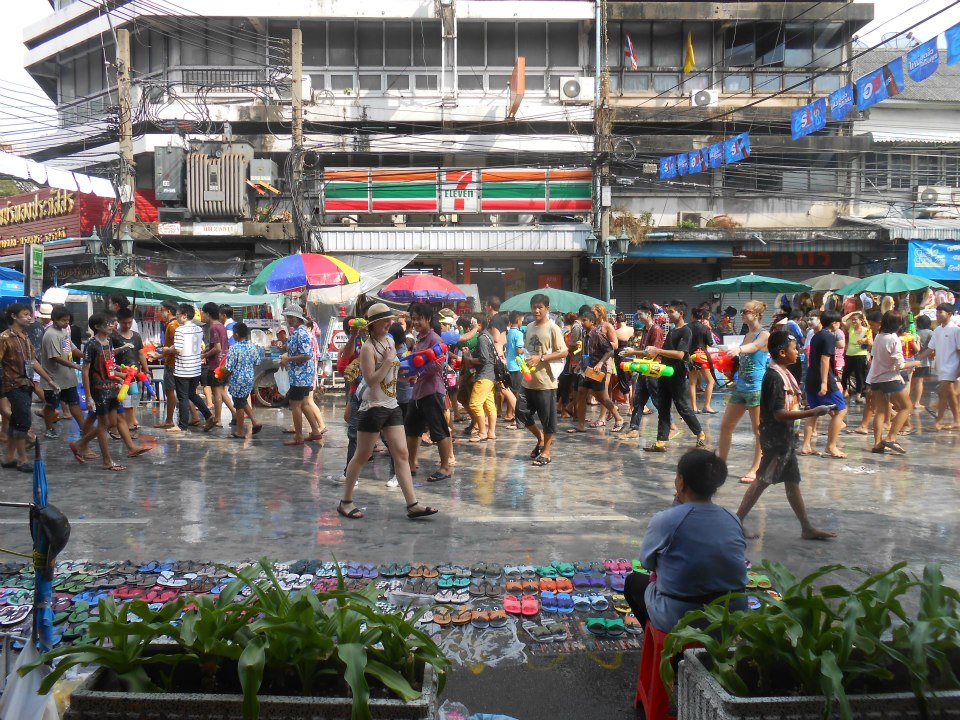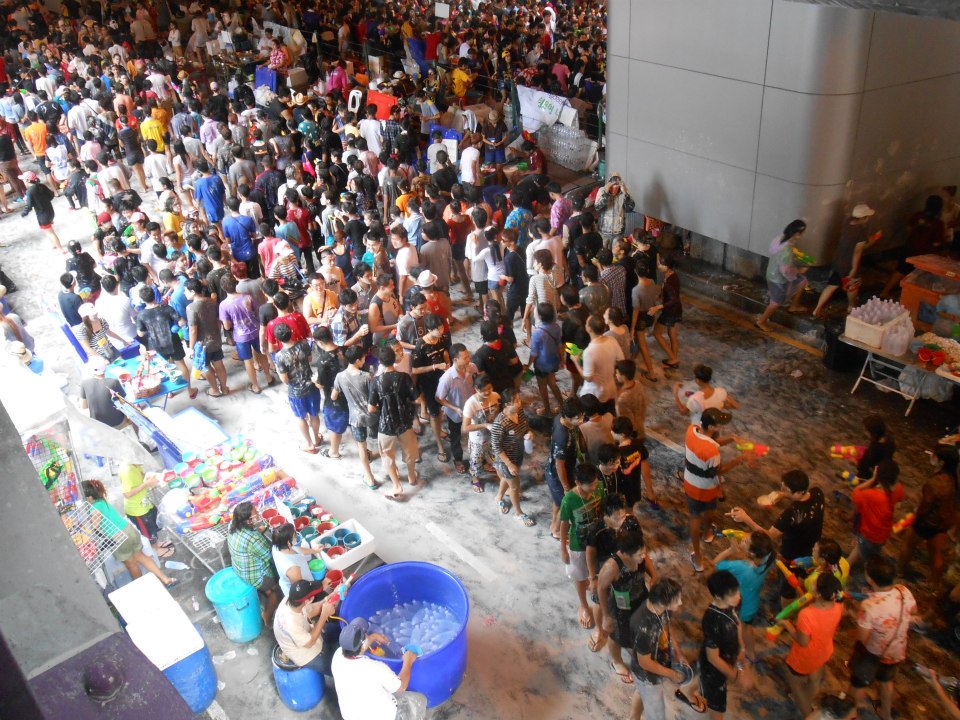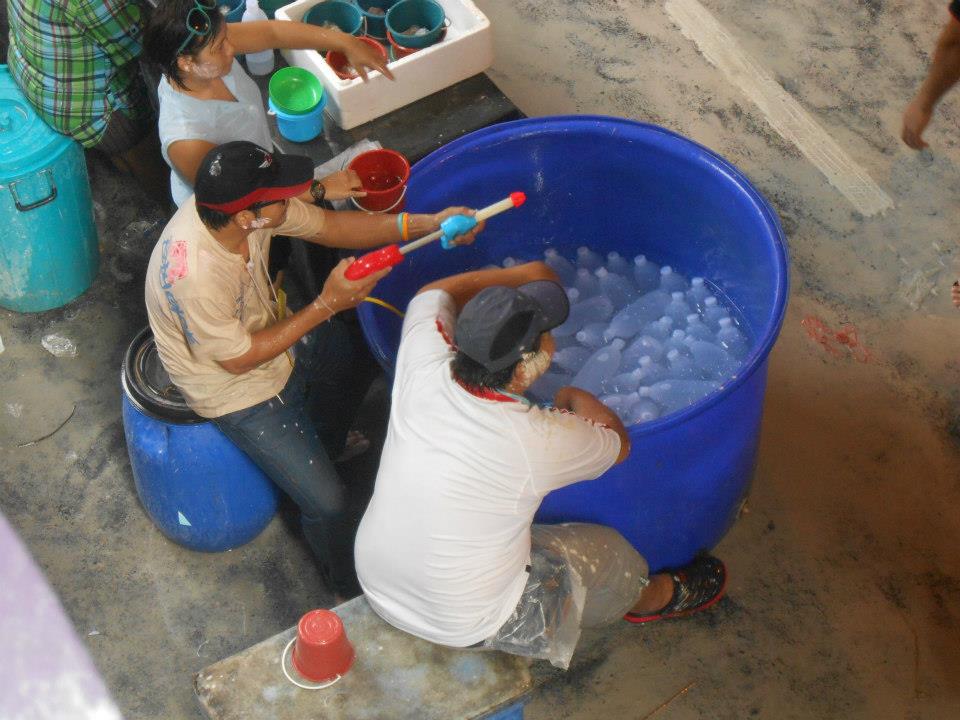 What to wear
You will get absolutely soaked the moment you step outside so wear something that isn't see through and that won't fall down when wet. Buy a plastic dry bag for your phone and money and make sure that it's always locked. I have very few photos of the celebration because water is thrown in your face literally every couple of metres. No-one is safe from the fun, even if you are holding your expensive camera in your hands.
Where to Stay
I would reccomend staying near the action in Silom or Khao San Road. The buses run infrequently during Songkran and it's extremely hard to get a taxi or tuk tuk. If you do end up getting one you will pay an inflated price.
However it's extremely fun to soak people from the safety of a bus or a tuk tuk, until you stop at a traffic light and everyone turns and soaks you (and the driver!).
Oh Thailand!
In the evening
As the sun sets, less water is thrown but you may still be someones target so still keep your valubles in a dry bag. As the sun set we headed to the Gay area of Bangkok to enjoy a few beers and a cheeky water fight with ladyboys and tourists. So much fun!
Songkran is a must see event for people travelling through Thailand. Although I had an amazing time celebrating it in Bangkok, I hear that Chiang Mai and some of the islands celebrate just as hard! Just remember to have fun and lighten up for three days. No matter what you are doing, you will be a target!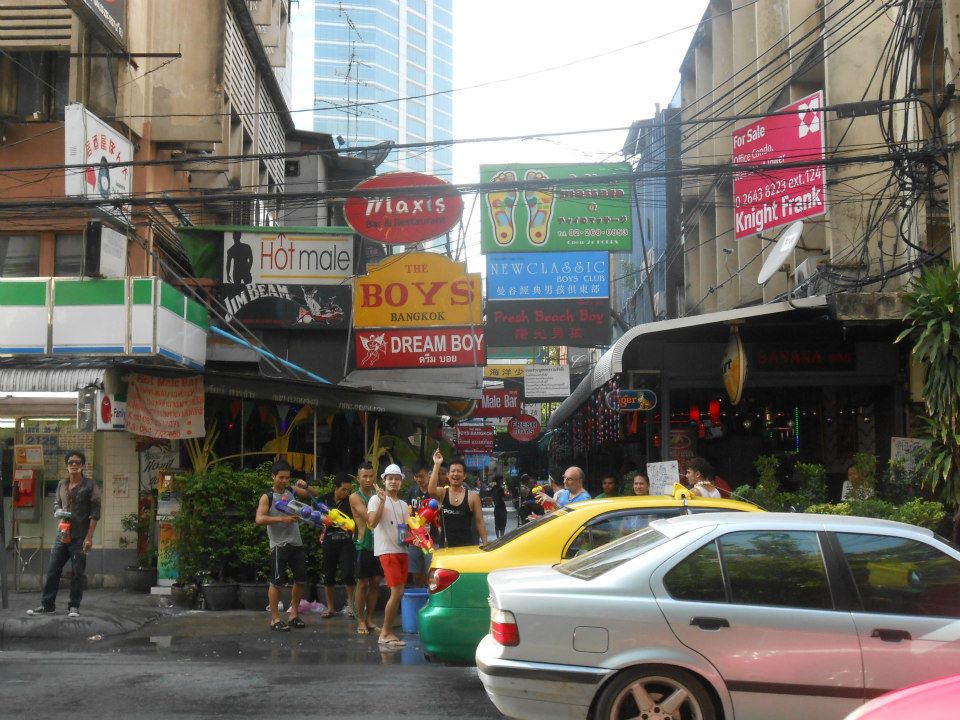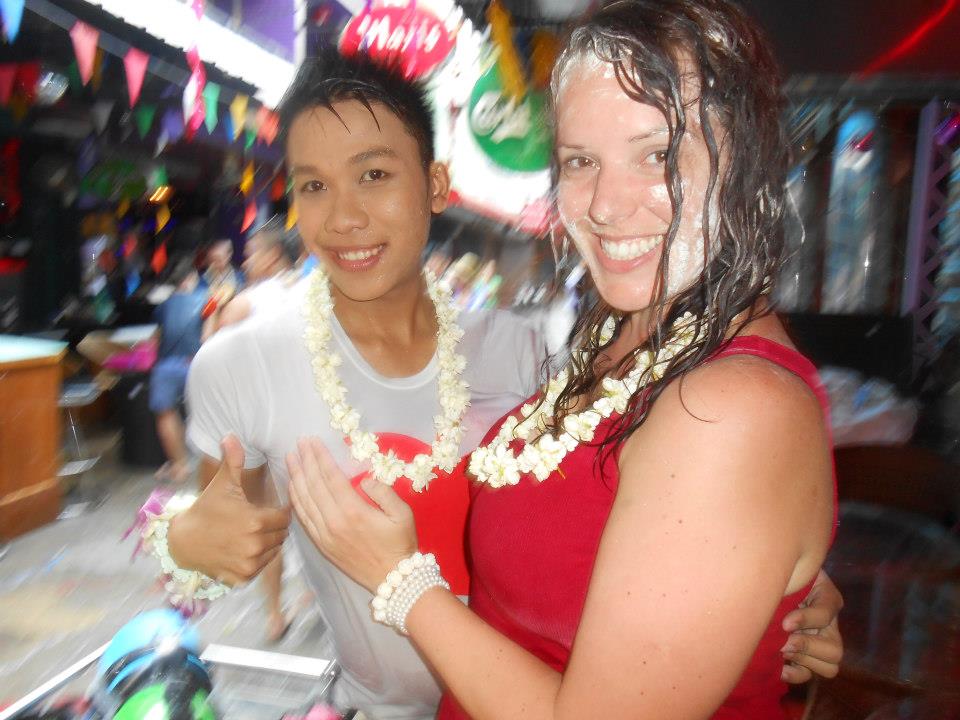 Have you celebrated Songkran in Thailand? Is so what did you think? Did you celebrate in Bangkok? What's your weapon of choice?