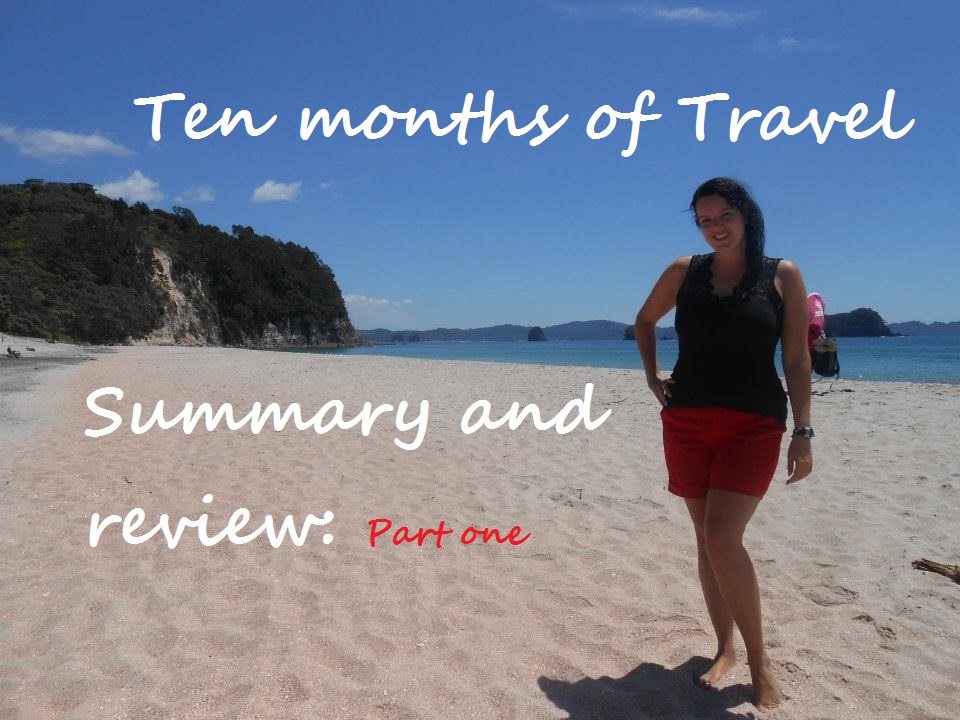 My tenth and final month of travel was spent in beautiful New Zealand. After feeling thoroughly underwhelmed by Australia, a country I had initially dreamed of emigrating to I had no idea what to expect of Australia's quiet neighbor. I had nothing to worry about, I soon fell in love with the natural beauty and laid back lifestyle. The food was amazing and the people were genuinely friendly with a similar sense of humour as the British.
It was just what I needed.
The first week was spent visiting family who I had never actually met before! Initially I was nervous about sopending time with someone who I've never met before but after a week I didn't want to leave. My Dad's cousin was absolutely lovely and made me feel very welcome. I also got all of the inside gossip about what New Zealand is REALLY like!
The beautiful Coromandel
I went for a weekend away to the beautiful Coromandel Peninsular with my cousin's workmates, (Who were all midwives…). Apart from hearing far too many gory stories about childbirth I had an amazing weekend. I visited a winery and vineyard, saw a pod of killer whales just ten metres from the beach and even got a proposal from a Kiwi boy who didn't want me to leave New Zealand!
Was it a sign? Am I meant to live in New Zealand?
Look at that beautiful food and wine!
I discovered that the world is a very small place when an acquaintance messaged me on Facebook to tell me that her best friend was in New Zealand, alone and wanted someone to travel with! Could the timing have been any more perfect?! Her best friend actually went the same school as me and it was so nice to travel with someone with the same accent, who knew the same people and places that I grew up with.
My initial plan was to rent a car and drive across New Zealand, my friend Ashley had actually booked to travel on the Kiwi Experience bus, a sort of semi organised tour. I decided to join her and had a very easy, fast paced month of travel where I met some amazing people and did many things that I would only do once in my life!
All aboard the Kiwi bus! I'm rocking head to toe grey…
The first stop on the Kiwi Experience bus was the Bay of Islands in the North. Most people stayed here for a few days but we decided to stay just one night. I enjoyed getting to know other travellers on the Kiwi experience bus and took a ferry to the cutest little island Russell where I saw a manta ray in the clear blue waters of the marina!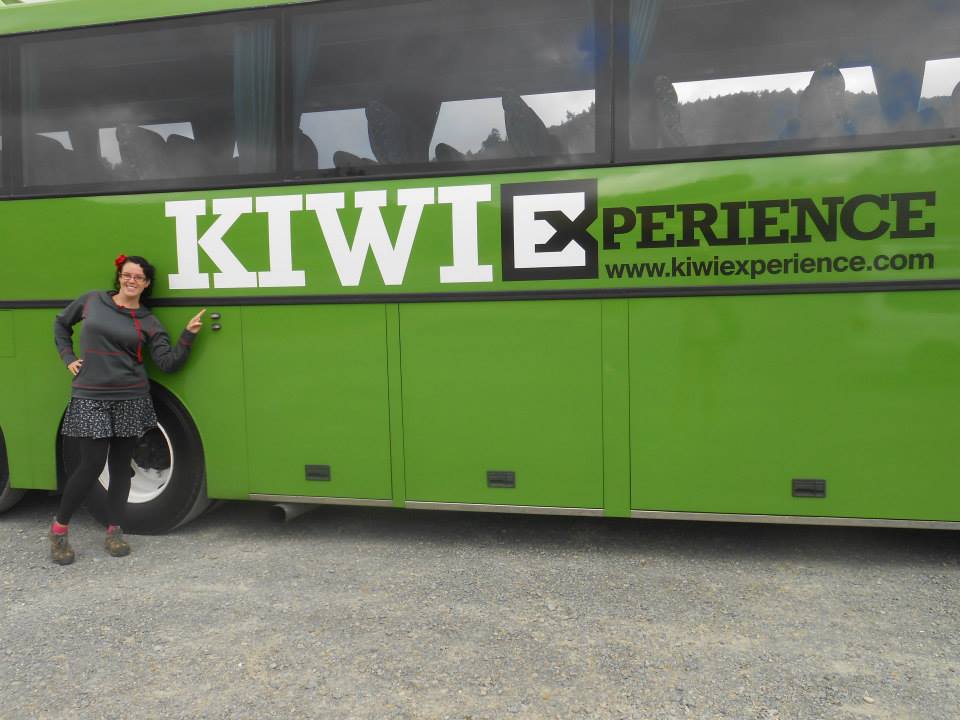 Auckland tower
The next stop was Auckland, I stayed there in the suburbs for the week I spent with my family but I never actually had chance to explore the actual city. My friend took a few of us on a whistle stop tour of the city and I ate one of the most delicious burgers of my life.
We travelled up to the Coromandel Peninsular to the amazing hot water beach, it really does have to be seen to be believed, like many of the crazy geo-thermal wonders of New Zealand. We dug our own hot spa on the beach, such a surreal experience.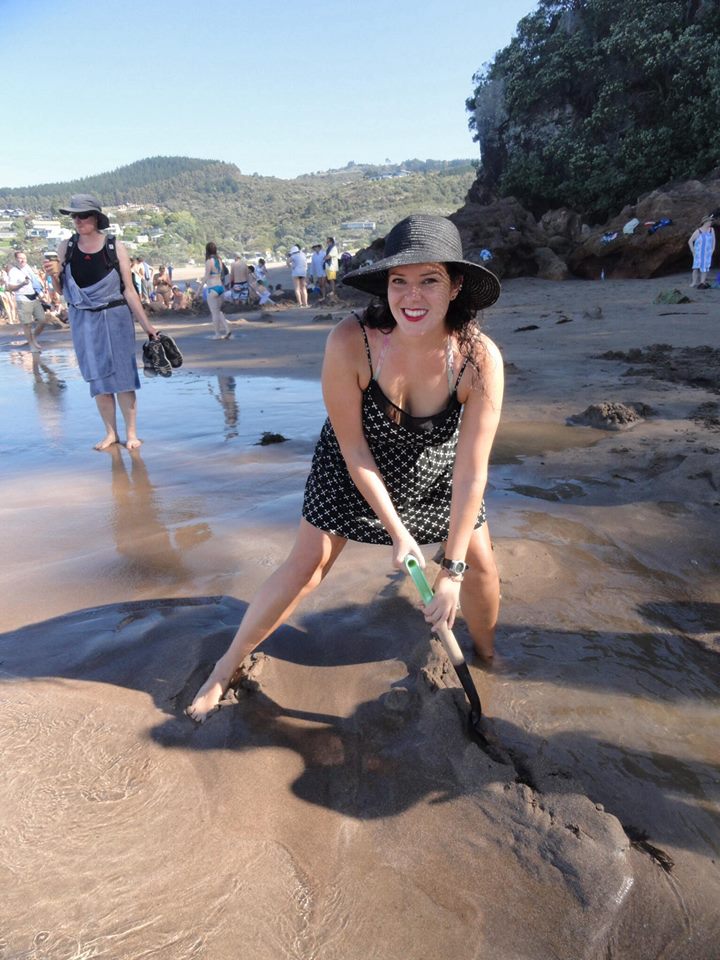 Helping to dig the thermal spa on hot water beach!
In Waitomo I got to see glow worms! It's hard to believe that the actual 'glowing' part of the worm is it's faeces! As we travelled down the country to Rotorua we visited the amazing Hobbiton. I'm a big Lord Of the Rings and The Hobbit fan so I was in my element posing near the cute Hobbit Houses. I really was in my element!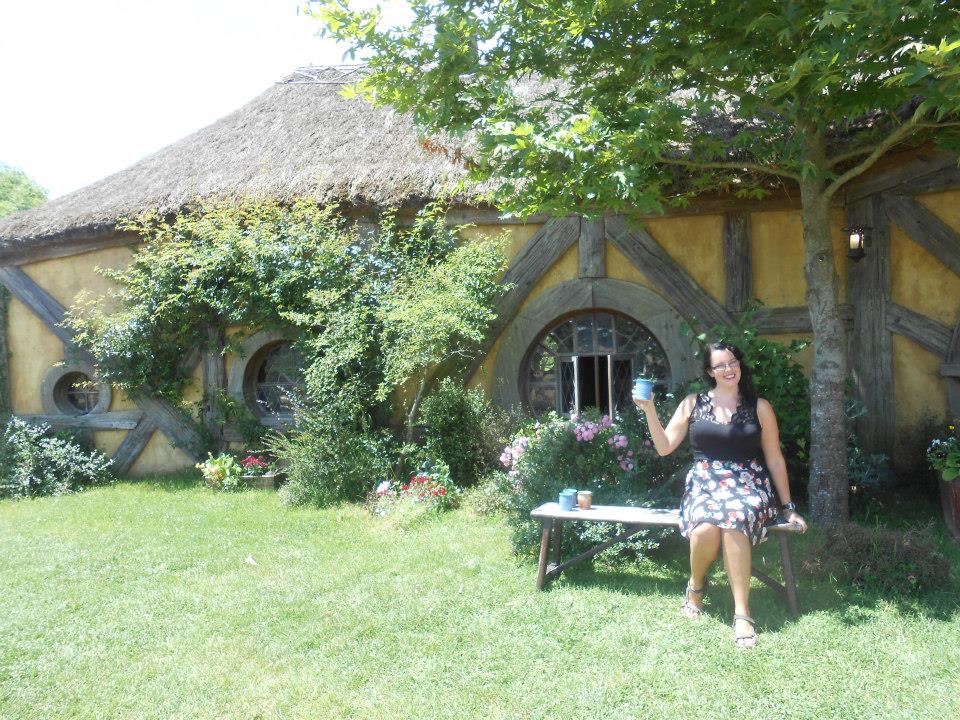 Rotorura is a small town that smells like eggs because of geothermal activity. Right next to the hostel that we were staying at there were bubbling pools of mud and water that were only surrounded by fences the year before. The Te Puia geothermal reserve was where I saw a geyser erupt and ate an egg that was cooked in a geothermal pool.
Te Puia
Then we travelled to Taupo, a place I was dying to go to and secretly dreading because I would have to jump out of a plane at 12,000 feet. Luckily I didn't wimp out and skydiving was one of the most amazing experiences of my life. Even to this day I still can't believe that I had the guts to willingly jump out of a plane! In the evening I went on a relaxing cruise on Lake Taupo and wore my skydiving T shirt with pride! I wanted to hike the Tongariro crossing but unfortunately it was closed due to bad weather. I was still buzzing after skydiving so I had a well needed chill day in the hostel.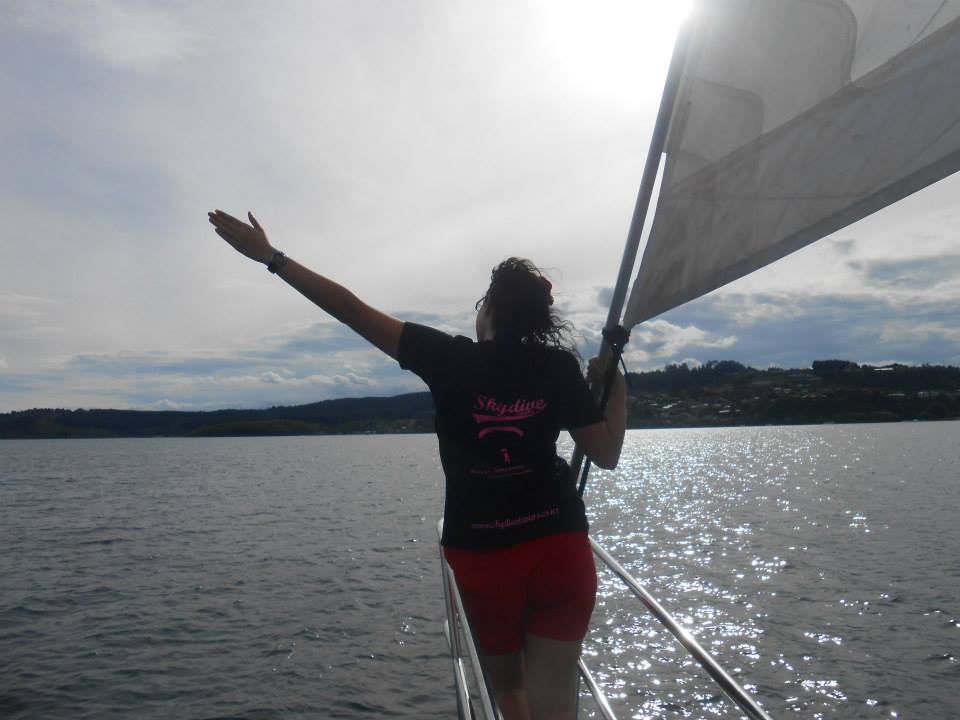 Feeling on top of the world after jumping out of a plane at 12,000 feet!
River Valley was a peculiar stop. It's not really on the tourist trail and it's basically a lodge in a secluded location. Most people went white water rafting but I used the time wisely and had a nap. I was finding this fast paced travel really enjoyable but also really hard. I was used to travelling at my own pace and staying in each place for a minimum of 3 days, here I was lucky if we stayed somewhere for 24 hours! It was good not having to book or research anything and to have a ready made group of friends for a month!
My last stop on the North island was the surprising little city of Wellington. It lived up to it's name of 'Windy Wellington' but was a charming and beautiful little city. One day we took the cable car to the  botanic gardens at the top of the hill which had fantastic views of the Sea and the city. I also had a much needed Chinese massage for only $20. It's a place where I could see myself living in the future.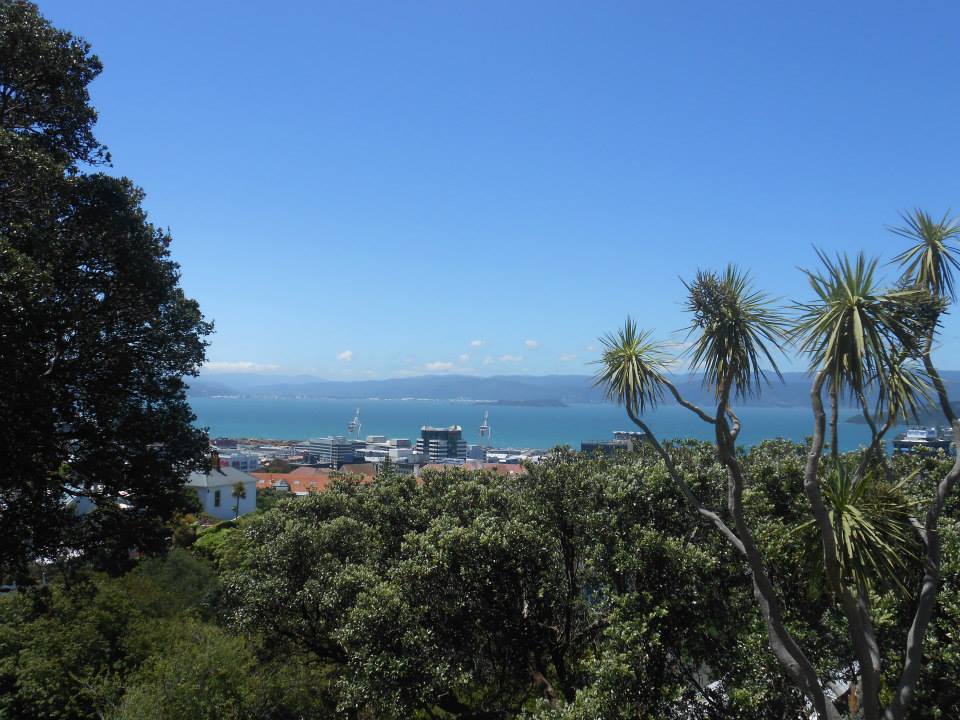 Have you ever travelled to New Zealand? If so did you find it very different to Australia? Have you ever travelled on the Kiwi Experience bus?