I sat on my bunk bed in the small, cramped and fairly dirty dorm room. I entered the WiFi code and checked my Facebook messages. One was from my Mum, 'Having a great time in Egypt, you'll have to come with us next year when you're back, our treat!'. At the time that sounded absolutely great. I was backpacking in Malaysia at the time and was having a hard time falling in love with Kuala Lumpur. An all-inclusive holiday in Egypt sounded like luxury compared to this dank hostel in China town.
All inclusive holidays have never really appealed to me. Even before my sabbatical I've always loved being free when I travel. Freedom to go where I want, see what I want and do what I want. I likened all-inclusive holidays to a kind of holding pen for people scared of the real world. I was excited to find out for myself what this new travel experience had to offer.
Accommodation
As soon as we arrived at the large hotel we had to pass through a metal detector, albeit a metal detector that wasn't working but nonetheless a metal detector. The air was thick with the sound of Russian voices talking passionately and I could smell rum even though it was before 11am.
We were whisked to our accommodation on a gold buggy, passing through landscaped gardens and beautiful flowers. Outside each block of accommodation was a small 'private' pool. At first glances it looked like paradise. I had my own bedroom and the luxury of two beds to choose from each night. The room was spotlessly clean and the beds were the comfiest I've slept in in my life. Every evening when I arrived back to my room there would be towels arranged on my bed. The first night was swans and the designs got more and more complicated cumulating in a grand elephant on my last night! It was a harsh reminder of my single status each night!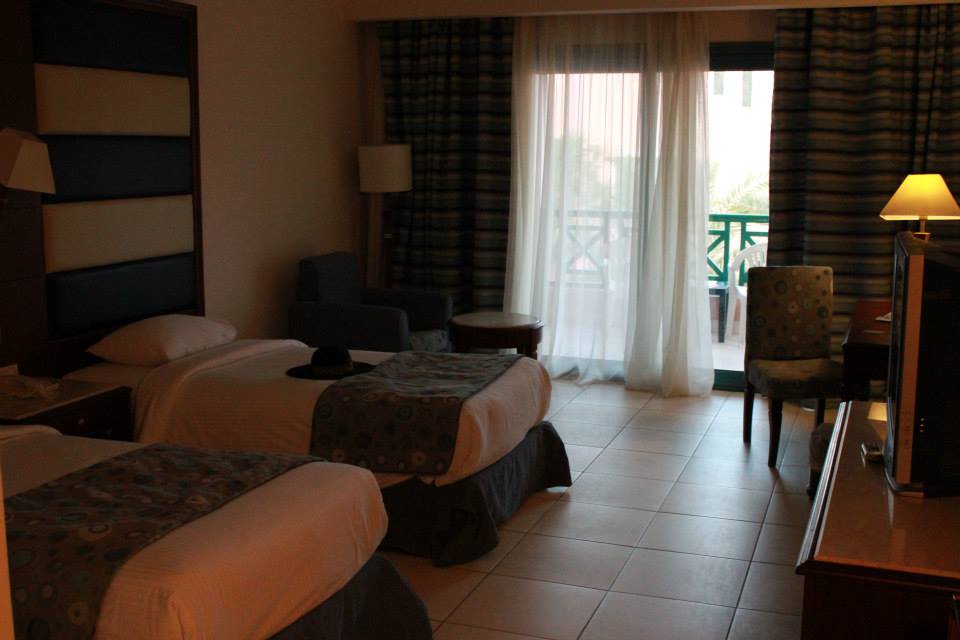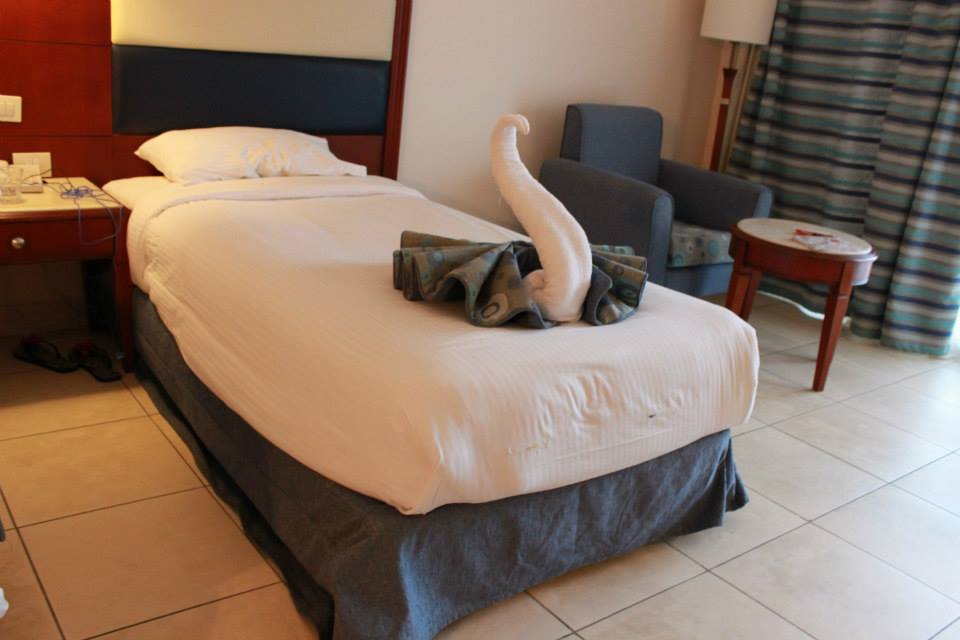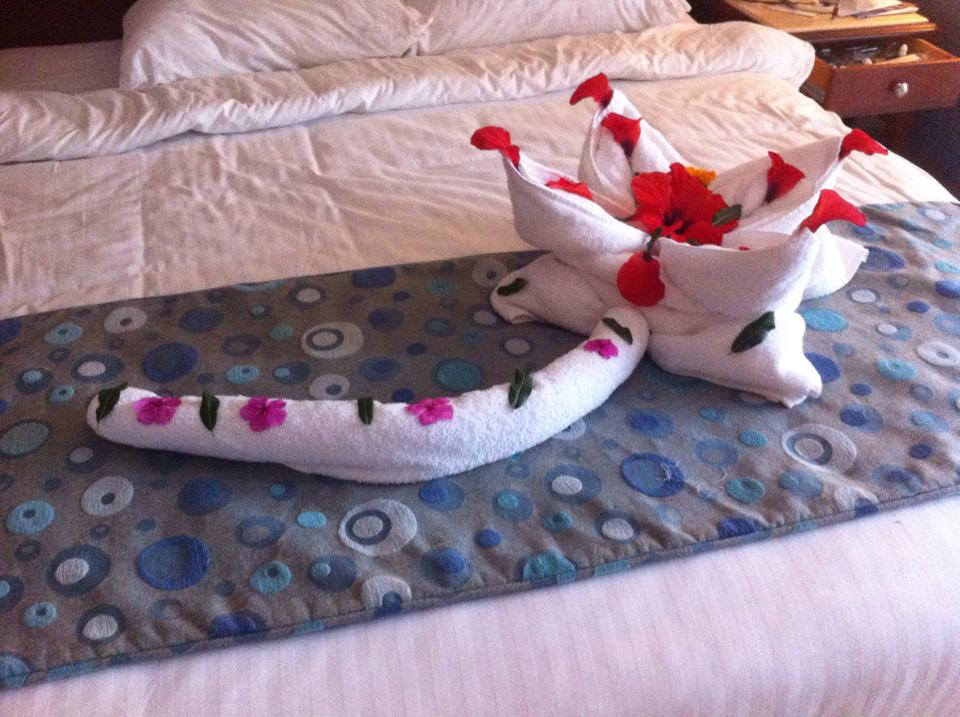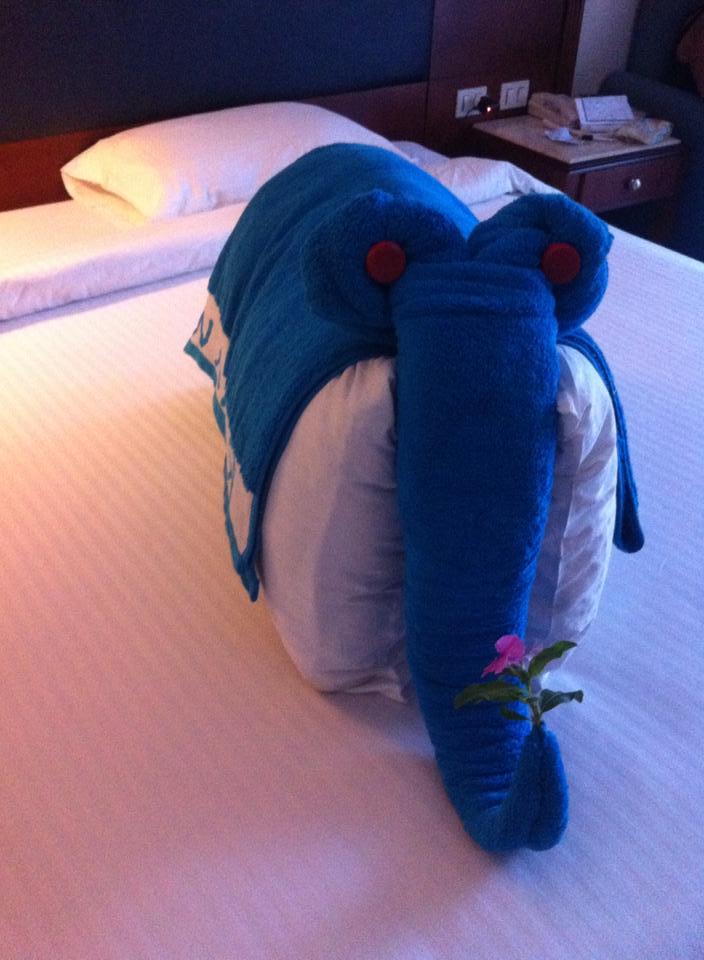 Resort
From the first night it was clear that we weren't the target demographic of the resort. The announcements were in Russian, the music was in Russian, even the food menu at night was geared towards a Russian palate! I came to Egypt expecting to be enveloped in Egyptian culture but surprisingly encountered more Russian culture during my stay.
The resort was beautiful. As well as the pools there were nice gardened areas and quirky statues scattered around the place.  The pavements were lined with palm trees and at night fairy lights lit up the resort. It was lovely to see children delighted with the big stick of cotton candy made at a stall on the way to the restaurant. There were a few shops selling souvenirs too and I had fun haggling and talking to the owners who seemed delighted to have the opportunity to speak English!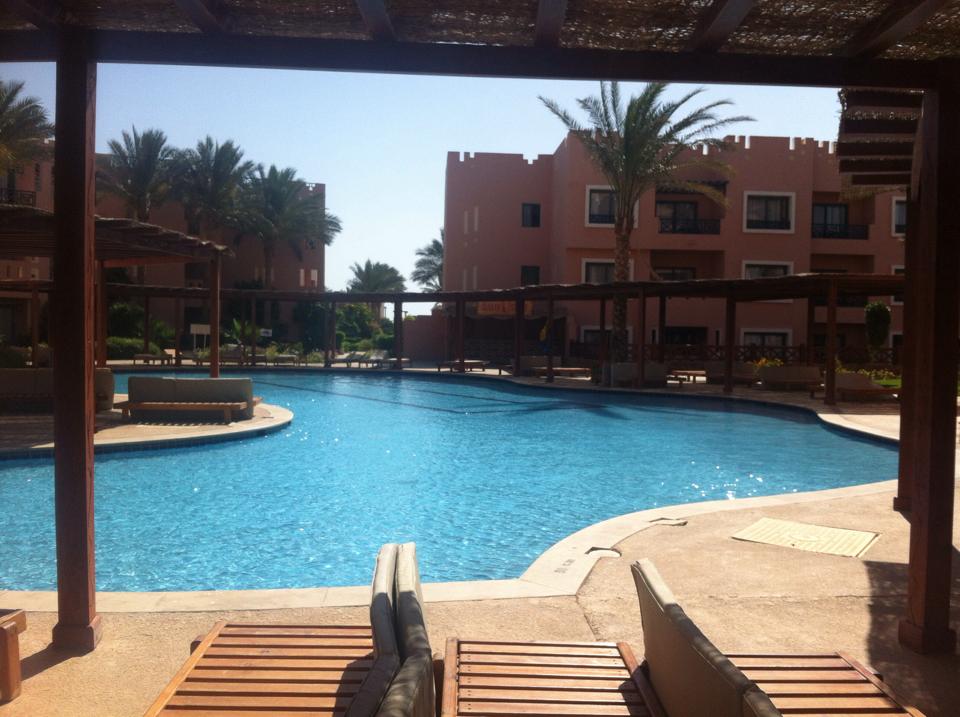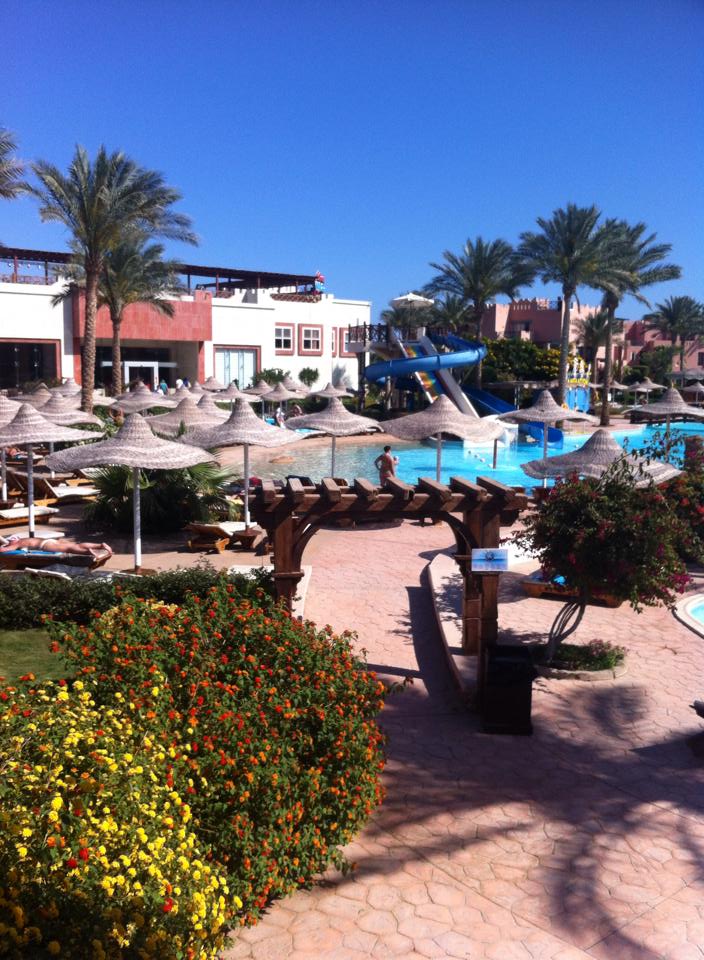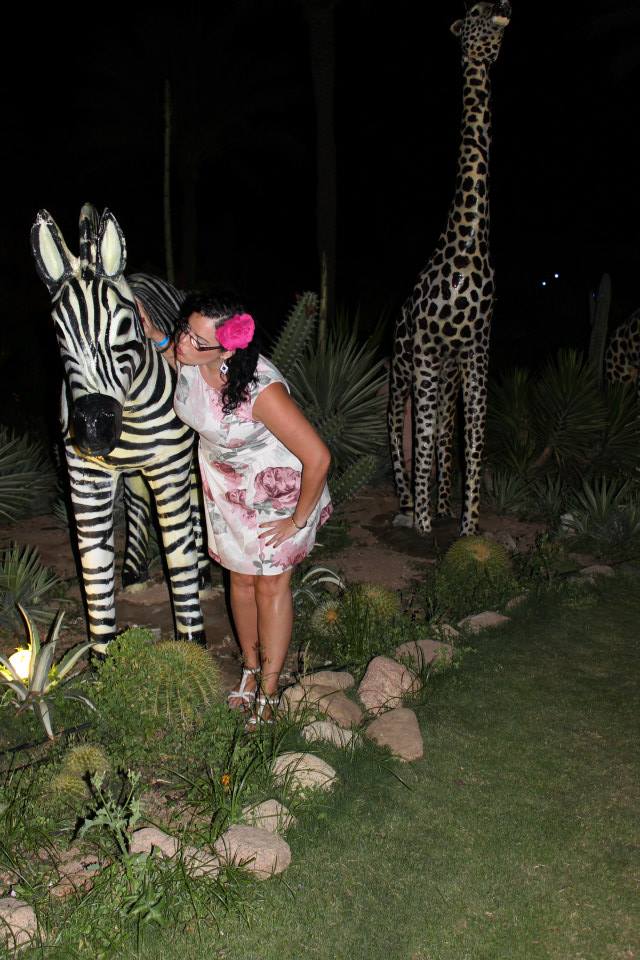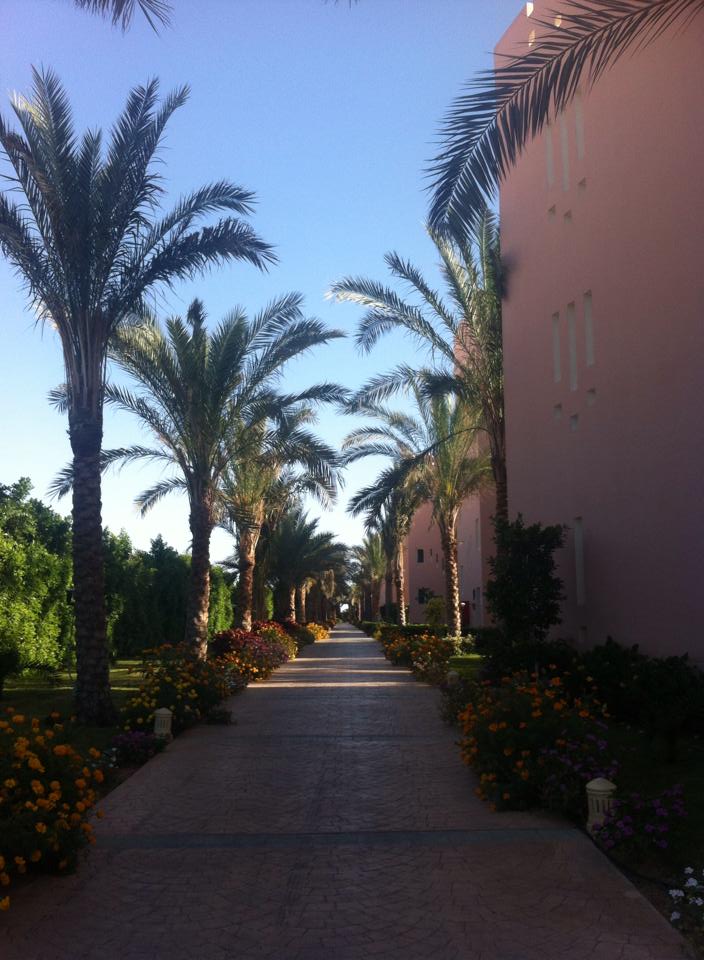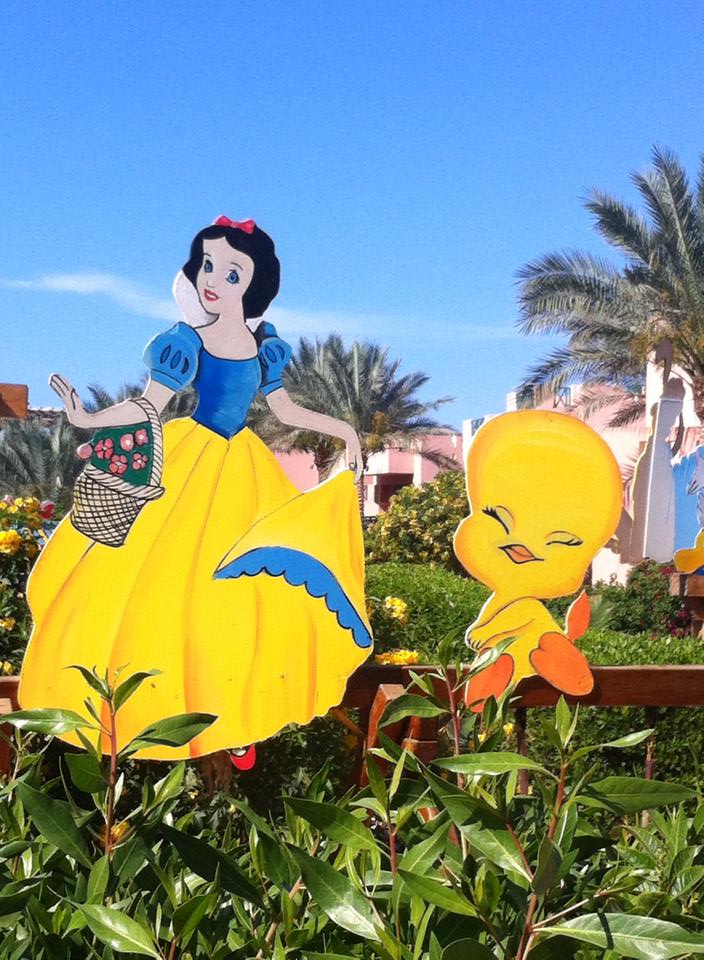 Food and alcohol
Let's not kid ourselves, unlimited food and alcohol are a big reason why people choose all inclusive holidays. This particular resort had Mexican, Lebanese, Indian and Italian restaurants that you could book in to a certain number of times each week. Other times you could eat from multiple buffet areas.
The food wasn't bad but it wasn't amazing. On holiday I usually love to treat myself with delicious food but at this particular resort the food was passible. The Lebanese restaurant was the best, the food was served on a mini BBQ to keep it warm and I enjoyed eating Arabic food. The worst restaurant was the Mexican restaurant where I found pieces of metal in my fajita, God knows how it ended up there! In typical English fashion I complained to my family but did nothing about it.
Now, alcohol. If warm beer floats your boat you should book a holiday here pronto! I happen to like my beer ice-cold so I had to ask for ice cubes when I ordered my beer which was met with puzzled looks. At first I was amazed at the large list of cocktails but was disappointed to see that they were mostly made with the same few ingredients and cheap alcohol. Despite drinking all day I don't think I got tipsy once which makes me think the alcohol was watered down.
I spent a few nights counting the stars on the rooftop bar and enjoying flavoured shisha. Sometimes I could hear the atmospheric call to prayer and was reminded that I was in Egypt.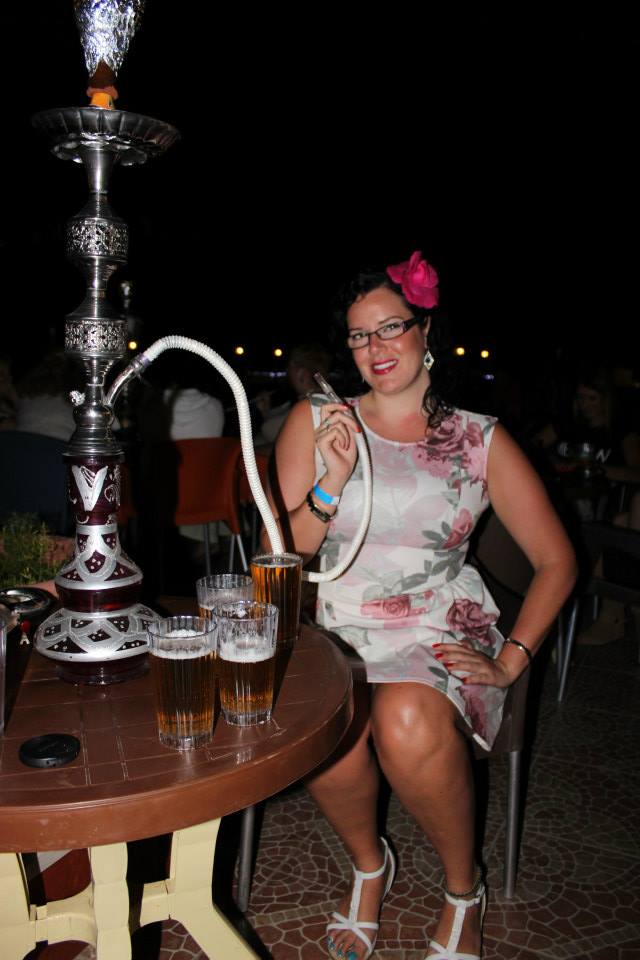 Entertainment
For me, the best thing was watching people getting involved in the entertainment! All of the entertainment was in Russian so it was hard to get involved. Watching the enthusiastic Russians get involved with comedy shows and dance to loud techno music was entertainment in itself!
I did get involved in the aqua aerobics in the pool daily though, which was in Russian. It was fun to just splash around and share a smile with a Russian lady or two.
Most days were spent by the pool, reading and topping up my tan. After four months in cold England it was just what I needed. After a few days I did get quite bored so decided to try something new.
Many Russians booked 'sexy photo shoots' and it was fascinating seeing people in bikinis perch precariously on a rock and pouting seductively. No place was out of bounds in the search for the perfect photo-op. I saw people swishing their hair under the waterfall in the pool and clambering over the fountain in the main lobby!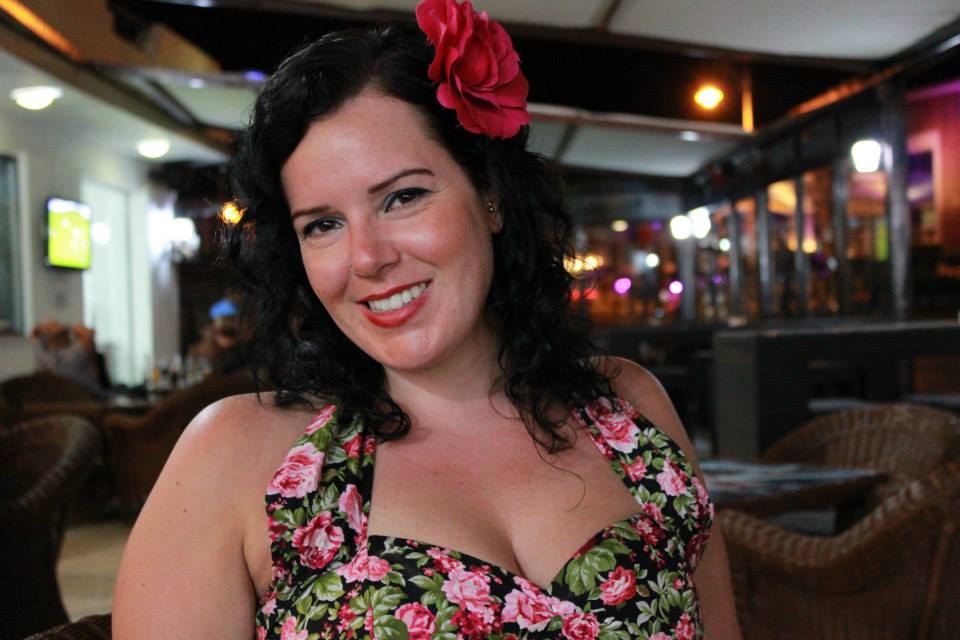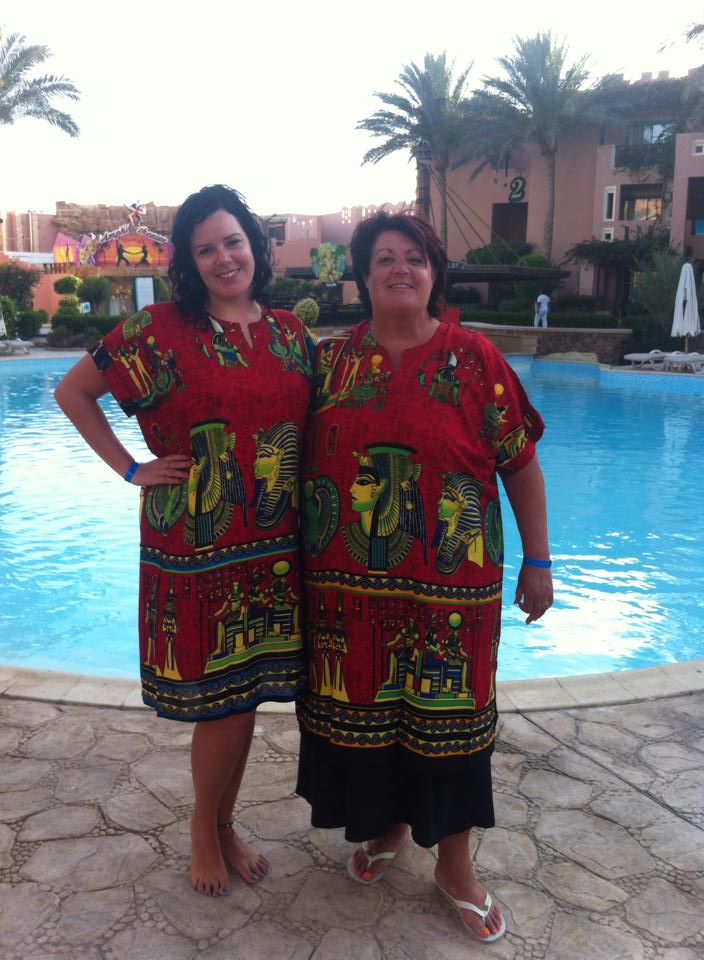 Snorkelling and Scuba diving
For some reason I didn't quite belive people when they said that the Red Sea was the best place to scuba dive. I went on a days snorkelling trip with my family and had an absolutely great time. I loved being on a boat and actually seeing Egypt rather than an artificial oasis. While snorkelling I faced my biggest fear: Conger eels! I actually managed to stay still in the water and watch as they cavorted amongst the coral.
Snorkelling fueled my passion for the sea and I was soon booking Scuba diving trips daily. For most trips I was with the same group of people, advanced scuba divers from England. I learnt an awful lot about the Red Sea and diving from them. One day I was paired with an Egyptian guy from Cairo and it was great to hear his opinion of Egypt.
The actual scuba diving in the red sea was world-class. I had hoped to see a shark but unfortunately it was the wrong time of year. I did see Napoleon fish as big as a ford fiesta, shoals of brightly coloured fish and more sea turtles that I could count.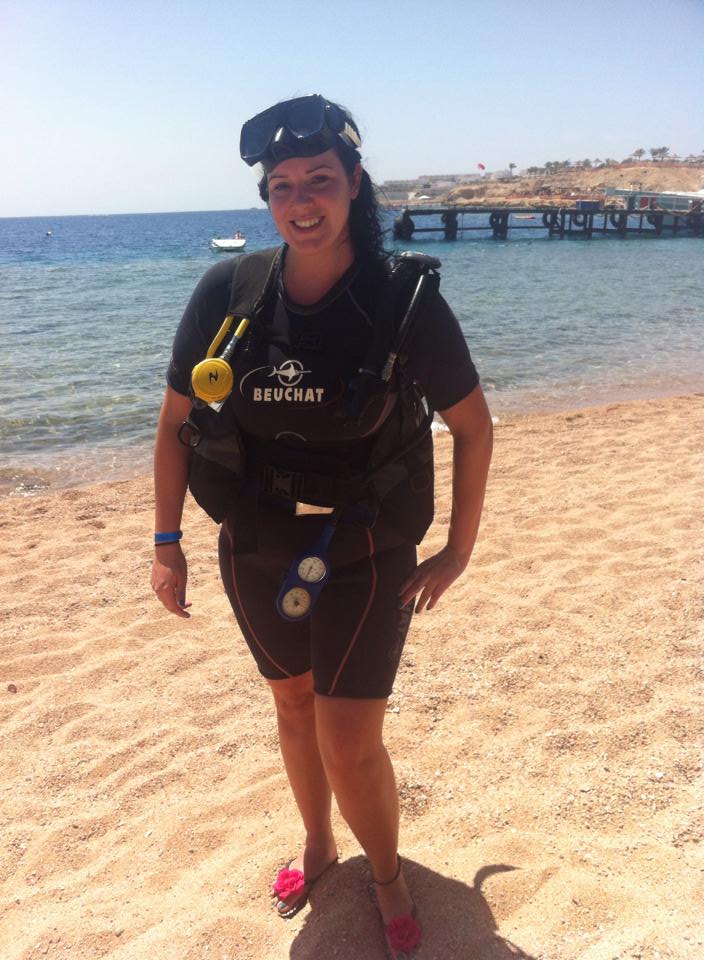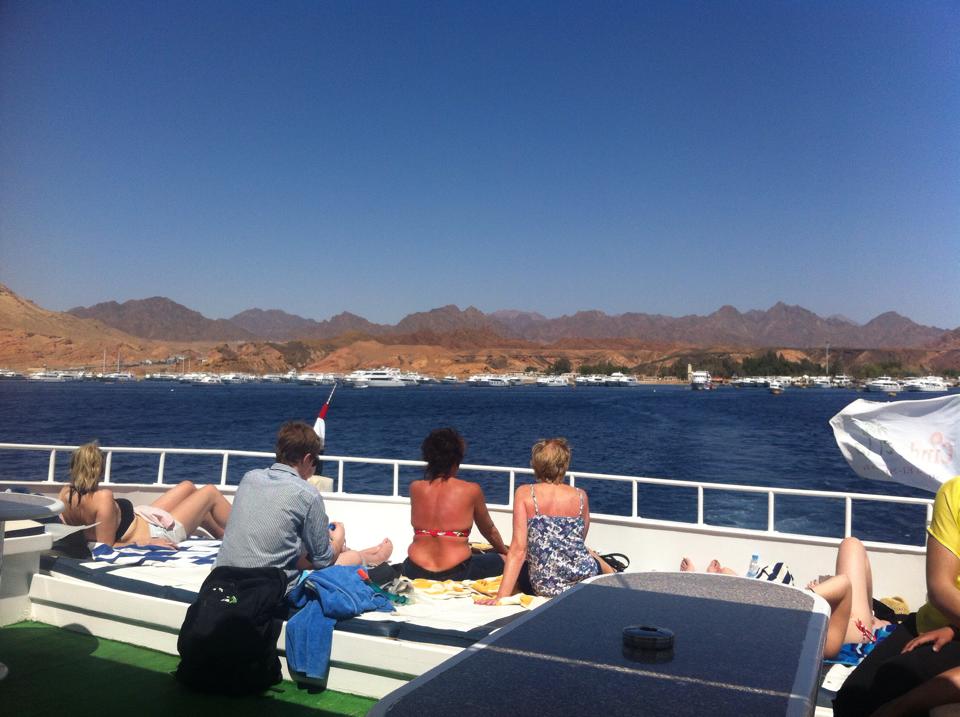 The Beach
To get to the beach you didn't even have to leave the resort. You just walked through a passageway under the road to reach the resorts private beach. I found this quite weird and wondered why they did this. The beach itself was ok. There were too many rocks to actually swim in the sea so I just enjoyed a paddle. because the beach was also part of the resort I found it quite boring. There was no unusual people to watch, no one trying to sell us trinkets. Just my family and scores of Russians!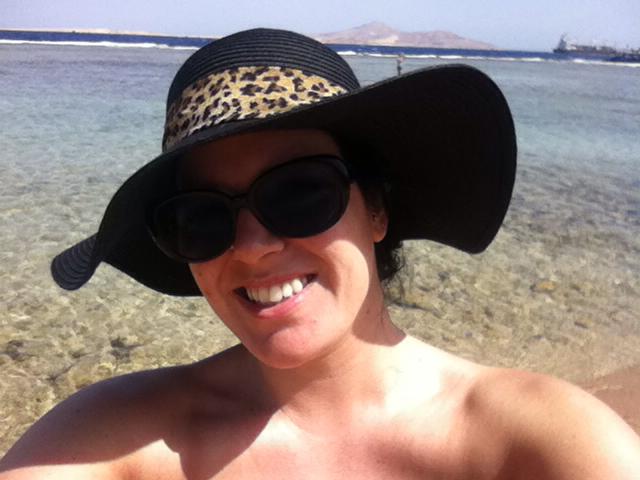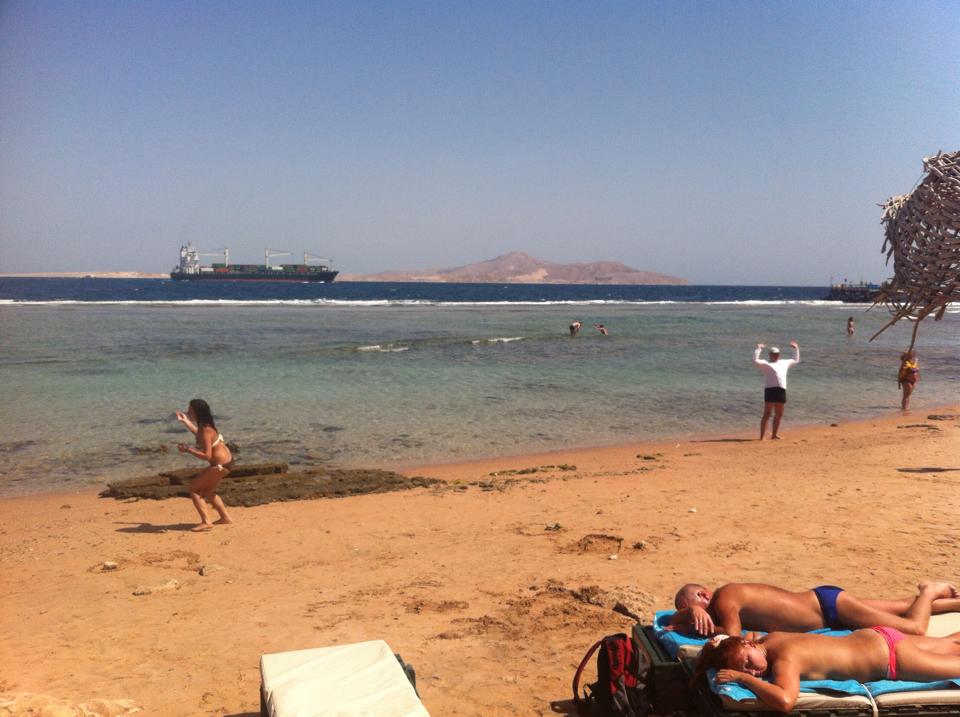 Area/Neighbourhood
If you head outside of the resort there are shops, bars and restaurants. The area the resort was situated was quite quiet but it was easy to take a taxi to a local shopping centre. It was nice to have a look around the shops and enjoy a decent meal and cold beer, but to me it just didn't feel genuine. The majority of people at the centre were tourists. When I travel I want to see how local people live but there was no opportunity on this type of holiday.
Staff
The staff at the resort were charming. They were witty and so friendly and were so curious about England and English culture. They did seem quite overworked though which was quite upsetting. Many work long hours each season to provide for their families. One bar staff was quite creepy with me each time I interacted with him, so much that I would ask my Dad to get a drink for me whenever he was around.
What did surprise me was the lack of women, both inside and outside the resort. During my time in Sharm El Sheikh I saw just one Egyptian woman. Where are all the women?
Would I recommend an all-inclusive holiday?
Personally all-inclusive holidays are just not for me. I prefer to interact more with the local people and during my tie there I felt like I was in a protective bubble. Saying that they are good value for money and a great for a relaxing beach and pool holiday. I would recommend them to families or couples who want to just get away for a week and have no worries whilst they're there.
Would I recommend Egypt?
I wouldn't say that I saw the real Egypt during my time in Sharm El Sheikh. It's a resort town and much of it is built just for tourists. When you stay in an all-inclusive you are removed from the country you are staying in, in a way it's like a separate world.
I would visit Egypt again for the scuba diving. Next time I visit I would book a full 5 days of scuba diving, with a day at each side reserved for unwinding by the pool. The diving in Egypt is amongst the best in the world, I was reminded of this when I scuba dived near Koh Phi Phi last summer. It just doesn't compare to the variety and sheer number of fish in the Red Sea.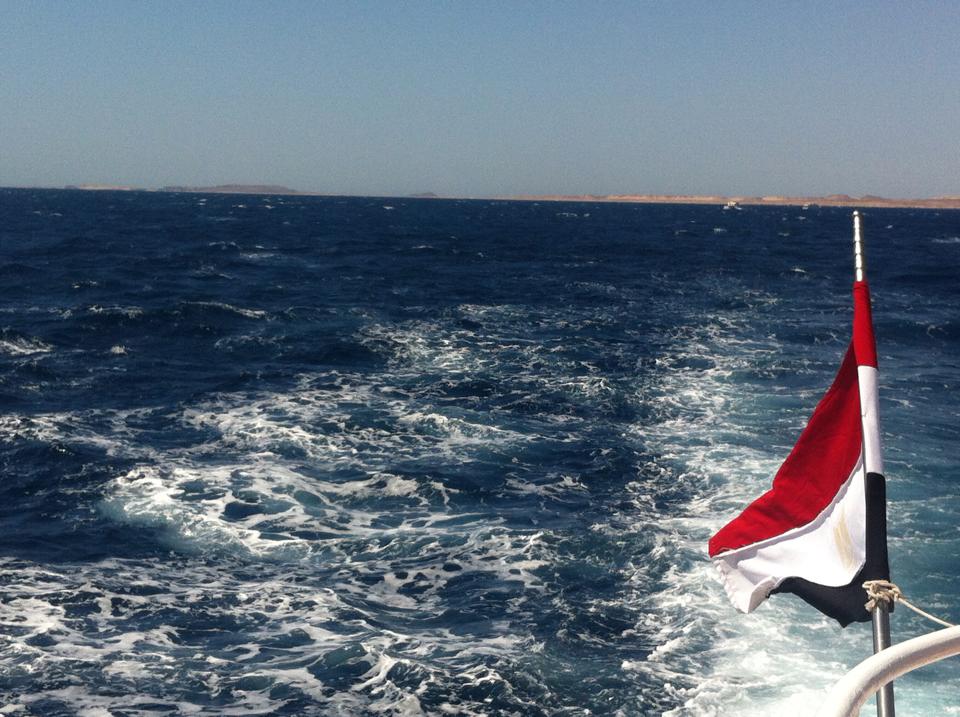 Have you ever been on an all-inclusive holiday? If so what did you think? Would you go on one again?