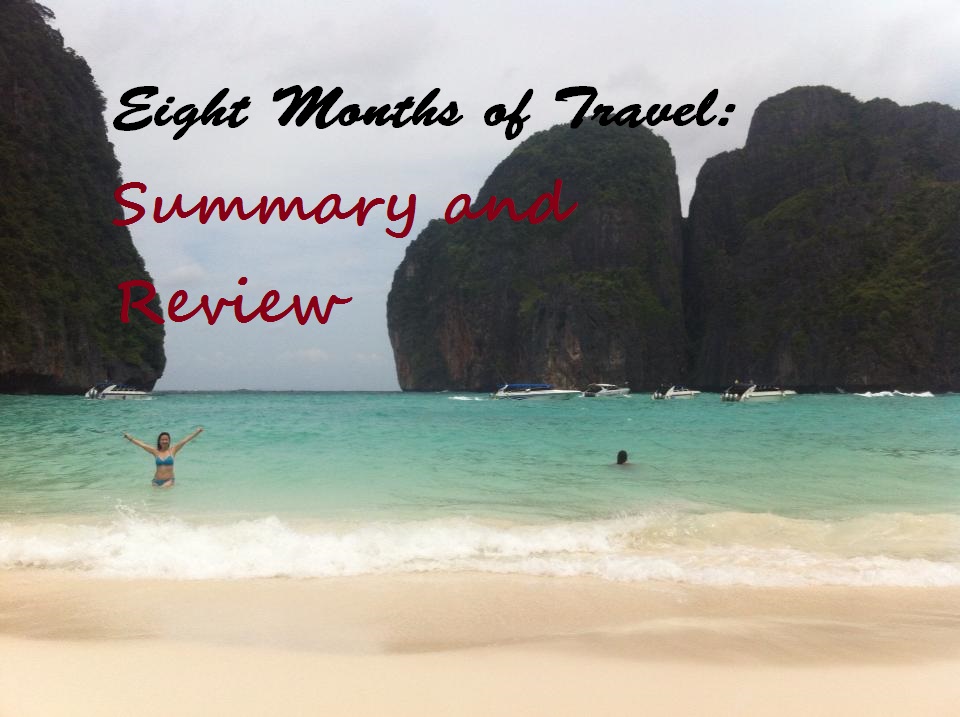 Month eight was the month where I had to say goodbye to my beloved Asia in Exchange for a new country and a new continent, Australia on the other side of the world!
I started my month in Koh Phi Phi after a last minute decision less than 2 hours before the night boat departed. It was probably one of the best decisions of my travel and let me say goodbye to Thailand in style, in the one and only Maya bay from the film 'The beach'!
The sight of Maya bay got me through hours of overtime at work as I was saving for this trip. When I arrived in the bay it made my life feel complete. It was a surreal experience. I had dreamed about this place and this moment and now it was happening. I felt so happy and so proud of how far I have come in my many months of solo travel.
In another last minute decision I decided to travel all day and night to Kuala Lumpur to spend time with a good friend that I met at the retreat in Cambodia. It was well worth it and I had one of the best days of my travels going shopping, gossiping, eating  Nando's and sipping cocktails overlooking the imposing Petronas towers.
It was lovely acting like a normal girl again!
I then travelling on the most luxurious bus ever to Singapore. It had complimentary food, a blanket and a console in the chair where I could watch films! After travelling on the back of pick up trucks in Asia I appreciated this small luxury!
My last days in Singapore were spent chilling at the amazing happy snail hostel. I feel so at home there and I love the comfy beds with quilts. I went shopping in Orchard and ate as much Singaporean food as I could fit inside me.
On the 30th September I arrived in Australia. Initially I was excited but then spent a few days suffering from reverse culture shock.
I soon picked myself up and recovered a bit when I moved to a more sociable hostel with a pool. I spent my first week in Brisbane due to a lack of planning. I even had to buy a guide book because I had no idea about anywhere in Australia and unlike Asia, you had to book in advance and not decide two hours before….
I love Australian marsupials and visited the amazing Australia zoo, home of my idol Steve Irwin. Whilst there I held a croc and was amazed at the croc show in the crocoseum. I had to hold back my tears when I read the many tributes to Steve that were dotted around the park. He was a man of passion who loved what he did.
I hope to find my passion one day. Something that makes me spring out of bed everyday and where I make a real difference to the world.
I visited the Lone Pine koala sanctuary where I cuddled a koala, fed kangaroos and met many of Australia's wildlife population. I also walked around Brisbane's clean city streets.
After a week in a city it was time to move on so I travelled North to Noosa and spent a night at a flashpackers hostel and travelled to the countryside to spend three nights at the Gagaju bushcamp where I discovered my talent in life, canoeing!
I spent a few days with a friend in Labrador and it was so nice to live a normal life and sleep in my own room. Small luxuries like privacy and just relaxing on the sofa with a cup of tea are hard to come by when staying in hostels!
Surfers paradise was a little taste of home, it reminded me of Blackpool! I had my first big night out in Surfers paradise and tried to bodyboard in the massive waves,I'm glad that I survived… It made me vow to do a surfing lesson whilst I'm in Australia though.
I decided to give the small resort town of Coolangatta a shot after Surfers Paradise and I'm so glad that I did! I loved the relaxed town centre and the beautiful beach. I saw a whale breach in the ocean whilst I was having a coffee in a cafe, it was such a unique experience. I would love to see these beautiful creatures up close one day!
After Coolangatta it was time to head to the busy Byron bay….
Modes of transport= Night bus from Sihanoukville to Bangkok then a variety of buses and ferrys as I island hopped.
Number of cuddly toys bought= 1, a crocodile to remind me of my time in Australia Zoo.
Number of times someone has said 'G'day!' to me= 262
Bucket list item ticked off= 1, holding a koala!
Lessons I have Learned= You need change to grow as a person. Accept it.
Number of cool bags bought= 1, food is so expensive here in Australia so I'm having to cook for myself for the first time in 7 months!
Number of times I have gawped, open mouthed at the crazy creatures in Oz= 3736
So there it is, my summary after 8 months of travel! Travel is amazing but not always easy as I realised when I suffered from reverse culture shock when I arrived in Australia. I no longer suffer from culture shock but I'm travelling quite fast in Australia which means that it's harder to meet people to travel with. It's worth it though because I get to see as much as I can of this vast country.
Have you ever visited Australia or South East Asia?
Have you ever cuddled a koala or fed a kangaroo?