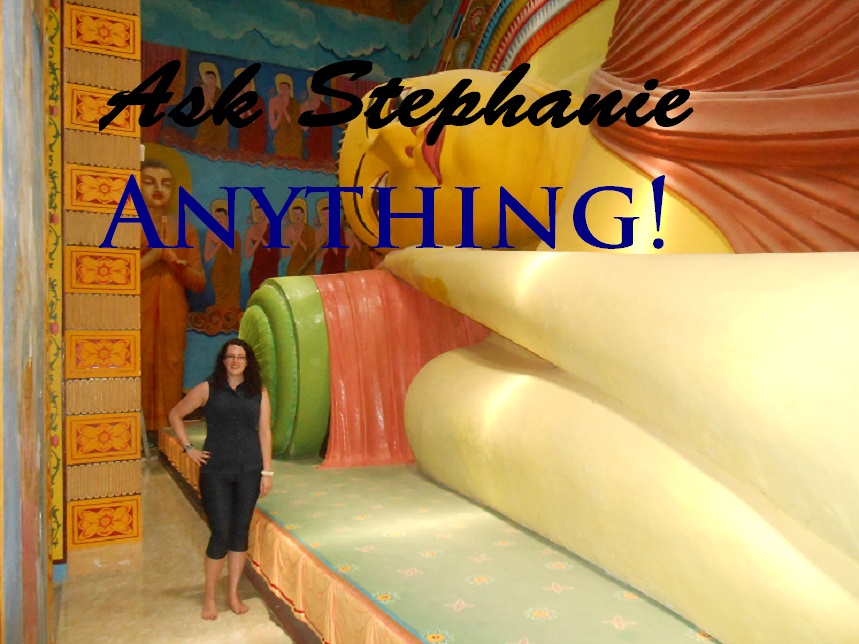 A lot of people ask me various questions about my travels on Facebook and Twitter so I thought that answering the questions publicly would be a good way to help other people. After all if one person is thinking it surely someone else is!
So here it goes! You can ask me any question you like my contacting me on my Facebook or Twitter pages 🙂
How have you dealt with uncomfortable situations with people you don't quite get a good feeling from?
I'm very lucky because I have only not felt safe twice during my travels. The first time was in Colombo in my last night in Sri Lanka. I arrived late after hours on the bus and I was going to go Negombo on the bus so that I was near to the airport the next day. As soon as I got off the bus I got a really bad feeling. I was surrounded by men so decided to get straight in a tuk tuk and head for a luxury hostel that had been recommended to me by a fellow traveller. Unsurprisingly the tuk tuk driver 'couldn't find' the hostel so tried to take me somewhere else instead. I stayed in the tuk tuk and told him that I wasn't going to get out until I was at the hostel. Luckily enough he was suddenly able to find it….
The second time I didn't feel safe was in Kuala Lumpor. I hated that city. I was out on my own taking photos of a church when a man approached me and started talking to me. I was in quite an isolated area so I just said 'no thanks' or something and started walking off. I turned around after a block or so to find that he was still following me! I walked faster and then walked in to the reception of a random hotel to try and stop him from following me. Luckily this did the trick. I just didn't feel safe in KL, it's a dirty and chaotic city and it has scores of people sleeping rough in the street. More that I have ever seen in my travels!
So overall I've been very lucky. If I meet someone who seems 'dodgy' I just use common sense and try to get away, with a smile. You soon become aware of who is trying to trick you out of money and who is genuine when you travel.
Did you feel safe staying in your 'rustic' bungalow in Koh Chang?
At first I didn't, the door didn't close properly and a small child could easily break in. I then realised that I am in Koh Chang and I should trust people. All around me were fellow travellers staying in the other huts so it would be hard for someone to actually break in. After that I did feel quite safe and really enjoyed staying in the huts, until I got dengue fever…
Whats it like travelling on your own?
I liken travelling on my own to being on a rollercoaster, sometimes I have loads of friends and sometimes I'm completely alone and it seems like everyone else is travelling in a couple…. Luckily i'm the type of person who enjoys my own company immensely. I love exploring new places alone because there's no one else saying 'oh we should go there' or 'oh I don't want to eat that'. It's complete freedom.
I have also found that travelling alone has made me a lot more confident. I can now walk up to people and start a conversation and I feel a lot less shy. There's lots of solo travellers too which can make it easier!
The only time that I wished that I was travelling with someone was when I had dengue fever. Other than that I feel a sense of accomplishment doing everything by myself! I rarely feel homesick now.
Surprisingly I still meet a lot of travellers who are surprised that I'm travelling alone. Many say that it's not safe for a women to travel alone which is quite a sexist view. Overall I feel safer on my travels than I did in England, that sure says a lot!
How do you decide that it's time to move on?
Usually I move on when I am bored or when I meet other people to travel with.  I spend over a week in Singapore which was far too long in hindsight but I really needed that taste of Western civilisation after Sri Lanka. I was enjoying eating Western food again after a month of rice and curry! Little did I know that Malaysia was also extremely modern!
I stayed in Koh Chang for so long because I made some amazing friends. Good friends are worth staying for!
Please let me know via email, Facebook or twitter is you have any more questions for me! I update my Facebook page daily and it's the best place to follow my travels!