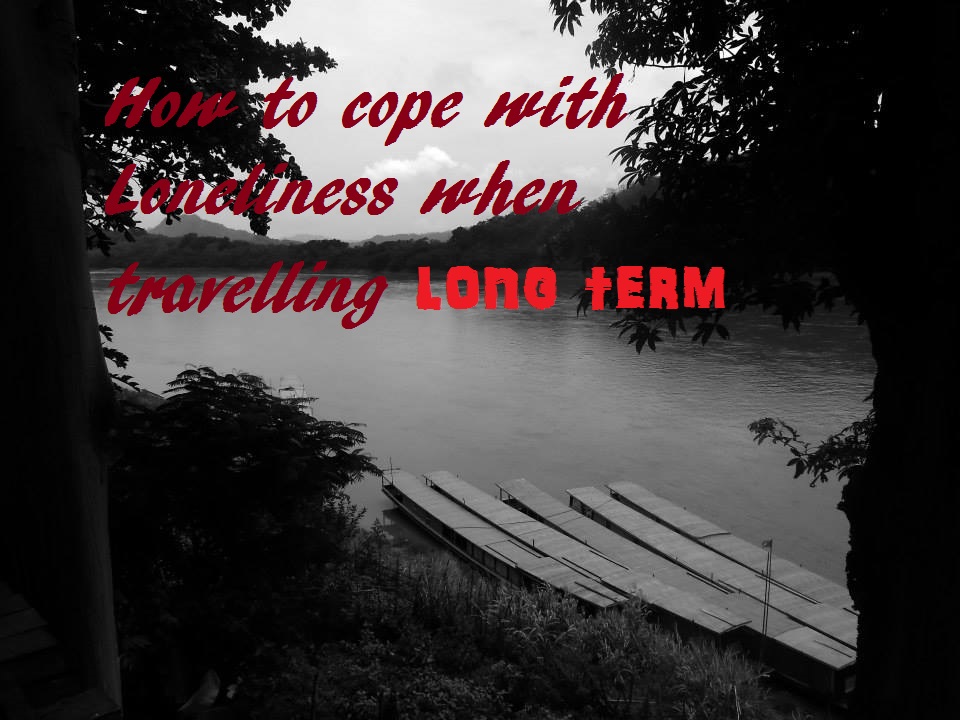 As I write this I've been traveling for nearly four months and they have been the best four months of my life.
Travel is such an intense experience and one which you have little control over. You never know who you will meet or whether you will even like a place. You just have to go with the flow and be open to new experiences!
The hardest thing that I've had to come to terms with whilst being on the road is sporadic loneliness.
Loneliness strikes when you least expect it. You can be living it up with your brand new friends at a midnight beach party one night and stood at the bar alone the next.
I liken travel to being on a rollercoaster, there will sometimes be intense highs and the next minute there can be an intense low. When travelling you need to take the rough with the smooth.
Don't get me wrong sometimes it feels good to be alone. As I write this now I'm actively seeking some 'alone time' after a few weeks of travelling with some really great people through Laos!
The worst feeling is when you feel alone and you just don't know how to fix it.
After dengue fever I kind of started to be a semi recluse. I couldn't bear the thought of dorm rooms and their lack of privacy. Instead I holed myself up in private rooms in Chiang Mai and enjoyed having an appetite again and living in a vibrant city with Western amenities. Although I was happy I sometimes felt lonely.
I lost my social mojo.
When I was back to my full health I went on a jungle trek and I met some amazing people. It was then that I vowed never to feel lonely again but to do something about it.
Come on I'm travelling the world on my own, the least I can do is go up to some strangers in a bar and strike up conversation!
So here are my tips for combating loneliness whilst on the road.
Embrace loneliness
Sometimes it's nice to be alone. In this world people seem to avoid doing things on their own because they fear that they will be lonely. I find that time alone gives me time to grow, be myself and analyse the amazing things that are happening in my life.
When you are alone you can do exactly what you want to do and don't have to consider anyone else. If you want a massage get a massage. If you want a beer in the middle of the day go ahead!
There's a reason why many people choose to travel solo; because it gives them the ultimate freedom in life. To do what they want, when they want.
Skype Home
I always find that when I feel lonely I want to talk to people who know me. Sometimes I'm just not in the mood for the same old traveller talk of 'where are you from?' and 'where are you going?'.
Keeping in touch with friends and family is easier than ever now. It also puts everything in perspective. While they are at home you are free to live the life you want. Tell them all about your adventures and hear all of the gossip from home.
Book on a group tour
I've met some really great people on group tours. They tend to be people with a similar interest to you and you will always end up talking to everyone. I met some amazing people when I went trekking in the jungles of Northern Thailand, on a desert safari in Dubai and when I took the slow boat to Laos. If you don't 'click' with anyone on the tour, don't worry! At least you have been on an exciting new adventure!
Change location
Sometimes all that's needed is a swift change in location. Sometimes you just don't enjoy being in a particular city or town because of the people or atmosphere. I didn't enjoy being in Kuala Lumpor in Malaysia so I moved on as soon as I could.
Some places have friendly locals and some locals are more cold. Just spend time where you are happy and where you feel comfortable. You won't like every place that you travel to and that's normal.
Move to a hostel
Hostels are very social places. Place twelve strangers in the same bedroom and you are bound to talk! Hostels also tend to attract younger travellers and some even organise group activities and bar crawls so that it's easy to make friends!
I stayed in an amazing hostel in Melaka, Malaysia. Each night they held 'dinner club' where anyone staying at the hostel had dinner together in a budget friendly local restaurant. It was a great way to meet new people and the hostel had a really inclusive, homely feel. Other hostels should take note!
Follow your passion
Or do anything that you love doing! Naturally you will have a lot of free time on the road when you are not travelling with others. Use this time to do the things that you enjoy to do or build a better life for yourself in the long run.
Read an inspiring book, explore the jungle, go for a bike ride, volunteer at a local school, talk to the locals, exercise, meditate, Write a book or blog. Just do whatever makes you happy!
Hopefully you will find some of these tips useful. Whenever you feel lonely on the road remember that it is never for long. If you act friendly and social people will naturally be drawn to you!
Have you ever felt lonely on the road? If so what did you do to combat the loneliness?