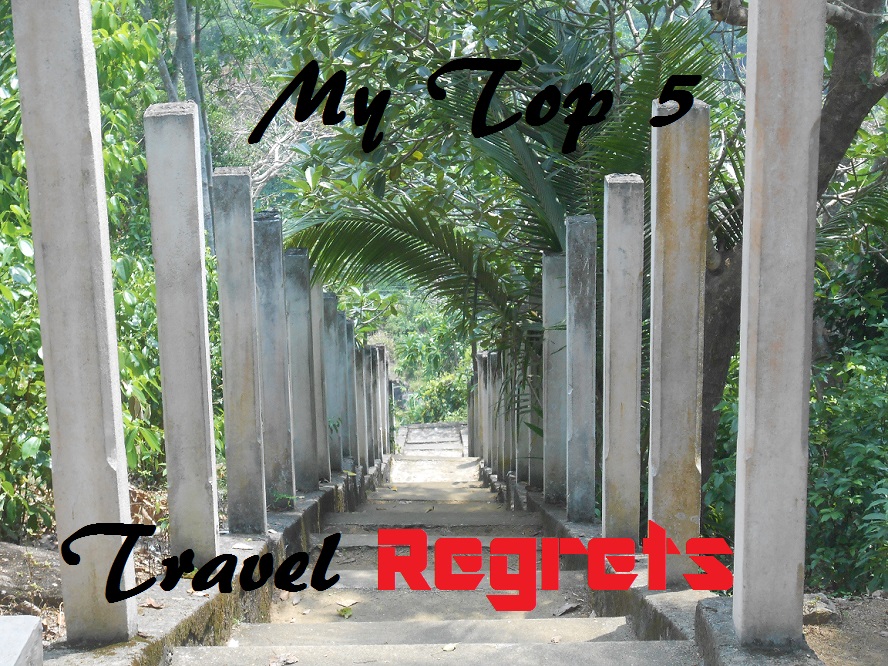 Being a relatively new traveller (6 weeks in to my big trip!) I don't really have many regrets at this point. I try not to have regrets because I think that things happen for a reason and that even bad situations can turn in to good situations in the future!
George from George on the go (who i'm going to be meeting up with in Bangkok for Songkran very soon!) nominated me to write about my top 5 travel regrets.
So here it goes
1) Bringing too much stuff!
I think everyone was waiting for this one! My bag weighs 19kg! That's a lot of weight to be carrying from place to place. The bag is actually really hard to actually get on my back. I don't even think that I've brought that much. Well maybe 5 bikinis was a little bit excessive…..
2) Not travelling solo sooner
When I went to Spain to teach English I had not been on holiday for over 2 years! That's 2 years of horrible English weather and no sun, I'm surprised that I didn't develop rickets! 
The reason that I didn't travel is because I had no one to travel with. Most of my friends didn't have the money to travel or didn't like sunny destinations. Many had boyfriends that they went on holiday with instead. I thought that I would be lonely if I went on holiday alone and look a little bit, sad. I'm so glad that I found travel blogs that made me realise that I can travel alone and it's actually great fun! You are hardly ever alone when travelling alone anyway, there's loads of other solo travellers all over the world!
3) Spending too much time in Singapore
After the chaos that is Sri Lanka, Singapore was a well needed restbite in civilisation. Everything was clean, there were pavements and more importantly, Subway! Naively I didn't realise that other places in SE Asia also have a lot of conveniences and are a lot cheaper with more character. As soon as I landed in Melaka, Malaysia I regretted spending so much time in Singapore. Melaka had charm and Western convenience. It was very bohemian and had quirky little cafes on each corner. Much more my style than expensive and sterile Singapore! A classic case of fear of the unknown.
4) Not exploring more of Europe and the UK
I find it crazy that I've now been to the same amount of countries in Asia as I have been in Europe, in just 6 weeks! All that time the UK and Europe was on my doorstep and I'm embarrassed to say that I haven't even been to Ireland! When I get back I'm going to take advantage of cheap Easyjet flights and see more of Europe. I'm also going to get in my car and drive to places in the UK that I have never been. The South West coast is supposed to be beautiful yet I have never been there!
5) Packing the wrong things
I packed a lot but surprisingly I missed a few items that are vital. I normally wear dresses at home and out of the dresses that I brought 2 are too hot because of the longer sleeves and one if far too dressy and tight to wear in Asia. I don't feel like 'me' wearing trousers or shorts everyday.
I should have brought some sleeveless sun dresses. I would feel more like myself then. So far most dresses have been 'Asia size', made for small thin women. Hopefully Thailand will have a larger selection of dresses and I can buy some new ones and send my others home.
Thank you for reading about my 5 biggest travel regrets. Hopefully you can learn from them so you don't make the same mistakes as me and end up trekking through Asia with a 19kg backpack wearing leggings….
I nominate Lillian from Travel Armadillo and Neil from Backpacks and bunkbeds to tell us all about their travel mistakes. They are both seasoned travellers so It would be interesting to see how their travel regrets compare to mine.