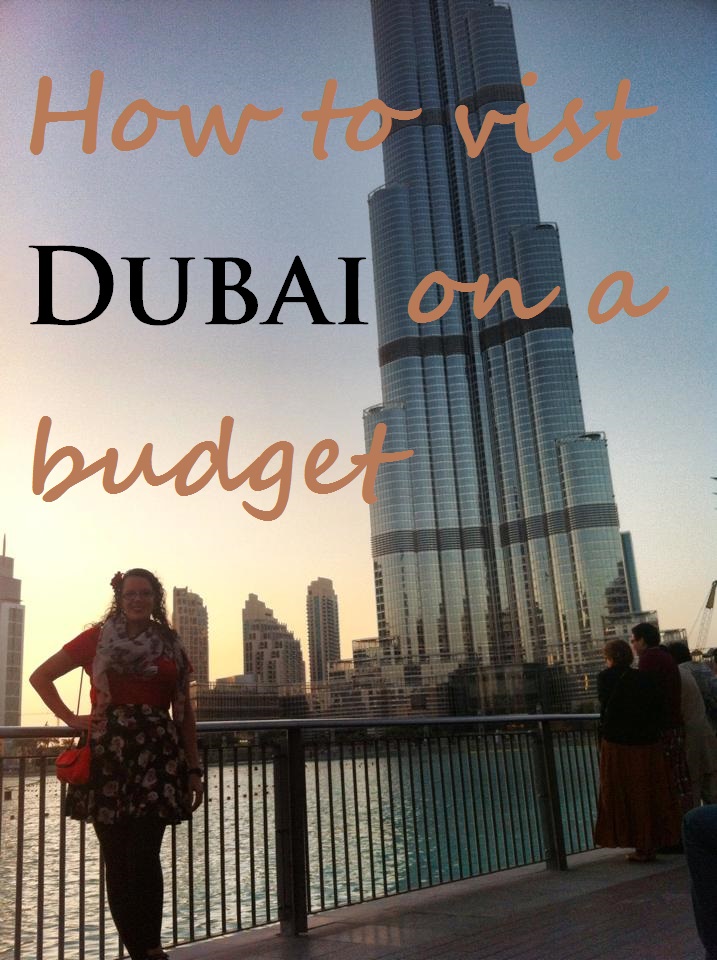 Dubai is undoubtedly a luxurious destination. If you have the money you could easily spend hundreds in the blink of an eye!
Dubai is a shopping mecca, it's malls contain thousands of shops!
Yes you heard that right, thousands!
The worlds first seven start hotel was also built in Dubai (The Burj Al Arab) and the many souks have been selling gold for hundreds of years. Other hotels and restaurants scream luxury like the beautiful Atlantis; a hotel where you can swim with dolphins in the morning and eat dinner whilst sitting in an underwater aquarium, watching sharks and tropical fish swim past as you eat.
If Dubai is such a luxurious destination, why did I choose it as the first stop on my round the world trip?
Because it's a unique destination, like no other. A true sense of Middle East meets West. Exotic and modern, a place of juxtapositions.
It can also be done on the cheap!
How to visit Dubai on a budget
1) Accommodation
The one thing that's expensive about Dubai is accommodation. There is only 1 hostel in Dubai which is conveniently located next to a metro stop (and has a pool!). This costs about $27 dollars a night which is less than £18. Not bad considering that you are visiting such a unique destination!
I booked a hotel for my 2 nights in Dubai. I wanted a bit of luxury before the start of my round the world trip and space to adjust to going away. I found a lovely hotel room for about £40 ($60) which included breakfast. Just look on the last minute/budget hotel websites to find a great deal!
2) Food
Like many things in Dubai food can be very expensive if you eat in the top end restaurants. Dubai has a rich culture due to immigrants who have moved to the city for work so you can find many cheap yet delicious Indian/Lebanese food places if you come out of the city centre and in to the vibrant Indian areas like Bur Dubai. I found gorgeous Lebanese wraps for as little as £1 and water from local shops costs as little as 17p! The local shops also sell delicious cakes for about 50p. I have no idea why people say that Dubai is so expensive.
In the centre of Dubai the malls have food courts with a large variety of food stalls at cheap prices! There's old favourites like McDonald's and Pizza Hut or you can try more exotic local fast food stalls, all at reasonable prices!
3) Transport
Believe it or not, transport in Dubai is also really cheap! The metro is very clean and efficient but it does not always drop you off right near an attraction so you may need to get a taxi too. A day pass for the metro is 16 Dirhams which is less than £3/$5 for a whole day of travel!
Taxis are also considerably cheaper than UK prices. I would recommend getting the metro to the nearest station to the attraction that you want to see and then getting a taxi the short distance from the metro.
4) Alcohol
Dubai is an Islamic country, therefore alcohol is not as easily obtainable as in other countries….and its not cheap! Locals even need a license just to purchase alcohol for home consumption. There are no off licenses in Dubai for tourists.
I went on one night out in Dubai and I was paying 39 Dirhams/£8 for a pint of beer!
Dubai is not a place where you want to get drunk either, technically it's illegal to be drunk and you can be jailed! Fortunately most bars and clubs seem to turn a blind eye to this and you can drink what you want provided that you do not 'make a scene'.
I would recommend trying out Dubai's nightlife but limit yourself to one or two drinks. Even better skip the alcohol (you are in a Muslim country, when in Rome…) and do as the locals do; enjoy the daytime in Dubai!
5) Free/Cheap Activities
Even though Dubai is a luxury destination there are still many things to do that are cheap or free!
The beach– Dubai has miles of perfect sandy beaches. The public beaches are free and some other beaches can be accessed for a small fee and have more facilities such as sunbeds and towel hire.
On the public beaches there tends to be a lot of Arabic families where the woman is wearing an Abaya and Burka alongside tourists wearing bikinis. It's quite an unusual site. I would advise dressing modestly whilst walking to the beach and just wearing your bikini when on the sand.
Dubai Museum– Dubai museum is located in Bur Dubai, one of my favourite places in Dubai! When you visit the streets surrounding Dubai museum you truly feel as if you are in the Middle East. The streets are full of traders and Indian and Arab men and women going about their everyday life. Dubai museum costs 3 Dirhams to enter (less than 60p) and is situated in one of the oldest buildings in Dubai. Once inside learn about Dubai' rich history and find out what Dubai looked like before the building boom of 2004 and before oil was discovered in 1966!
Malls– Walking around Dubai's malls is an experience in itself. Scores of shops, cinemas, rides, aquariums, food courts, ice rinks, ski slopes and even souks are just waiting to be explored! Personally I couldn't believe the size and scale of the malls.
Desert safari- The desert safari is a must do in Dubai! There is no better way to discover the Arabian side of Dubai! Dune bashing in a four by four, henna, riding a camel, shisha, traditional Arab food and traditional entertainment awaits, all in the exotic setting of the Arabian desert in a Bedouin camp. I paid 160 Dirhams/£29 for my experience but it was worth every penny!
See the sights- You cannot go Dubai without seeing the amazing architecture. The palm, the Atlantis, The Burj Al Arab and the worlds largest building the Burj Khalifa can be seen from various places in Dubai due to the immense size and scale of these buildings. They are truly breathtaking marvels of modern construction.
Sail across the creek to old Dubai- This is an experience that I unfortunately didn't have time to do. I hear that its very cheap (1 Dirham!!!!!!!!!!!!) to take one of the 'water taxis' across the creek to visit old Dubai.
I will be writing about my experience very soon!
So there you have it! My ultimate guide to doing Dubai on the cheap! I loved Dubai and I actually wished that I spent more days there. If I went again I would stay in the hostel because Dubai is perfectly safe. There is so much to do  in Dubai for cheap so don't be put off when people say that it's a place for rich people; that's not true.
Please feel free to ask me any questions about my experience of Dubai. It's a place that touched my heart and I would actually love to work there at sometime in the future