When people ask me what my favourite country is, I always say Thailand. Thailand is such a diverse country and you just can't compare the countryside in the North to the hedonistic partying that happens in the Southern Islands. It has something for everyone which was why I decided to visit it in my summer vacation.
I love living in Japan but it's a very constricting culture. Most people try their best to be harmonious in all ways which is nice at first but after a while can feel a bit fake and oppressive. There's so many unwritten rules to follow and it can get exhausting.
So I decided to visit crazy Thailand, land of not many rules!
The first few days in Thailand were everything I imagened them to be. I met a lovely French girl who lives in Tokyo on the plane and we spent the first day pampering ourselves with massages on the street and delicious street food. The second day her friends came and we explored the Grand palace and Wat Pho, places that I've never visited before despite staying in Bangkok three times in 2013!
It was bliss.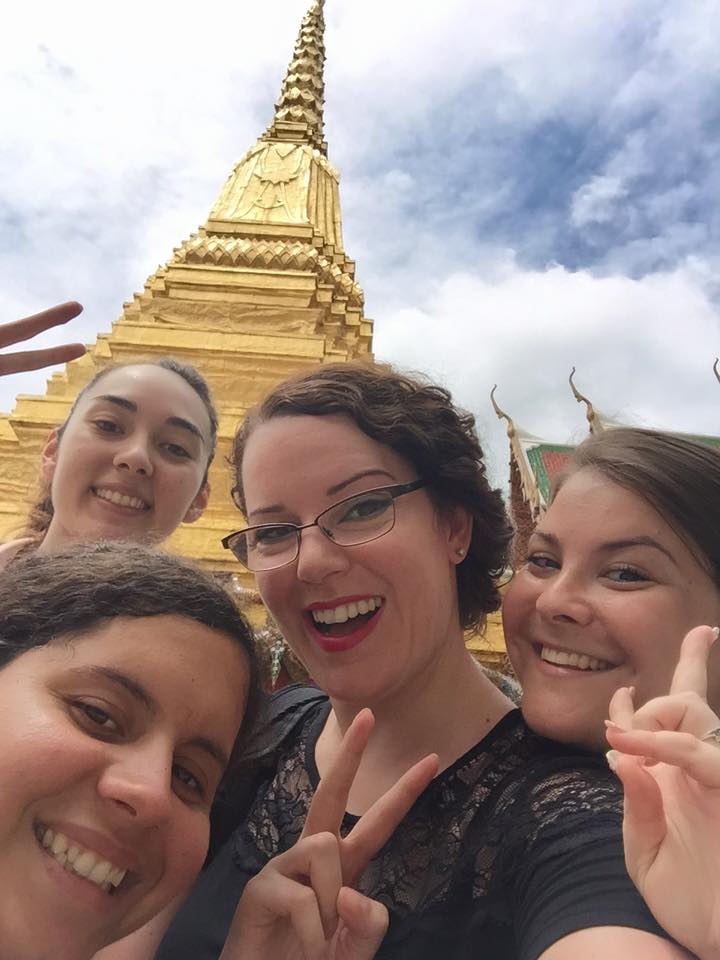 On the third day I left the blue skys and caught a plane to Krabi. On the way there turbulance rocked the plane and I was greeted by grey skies and rain drops sliding across the small oval windows of the plane.
Oh, did I mention that the plane was delayed for nearly 2 hours?
But oh no, this wasn't going to get me down. I'm a strong independent traveller and it's not the destination but the journey, right?
When I was on the plane I saw the clouds below me turn from fluffy white marshmallows to soddon, dirty dripping cloths. I knew the weather on the Southern islands was going to be bad but I wasn't expecting this…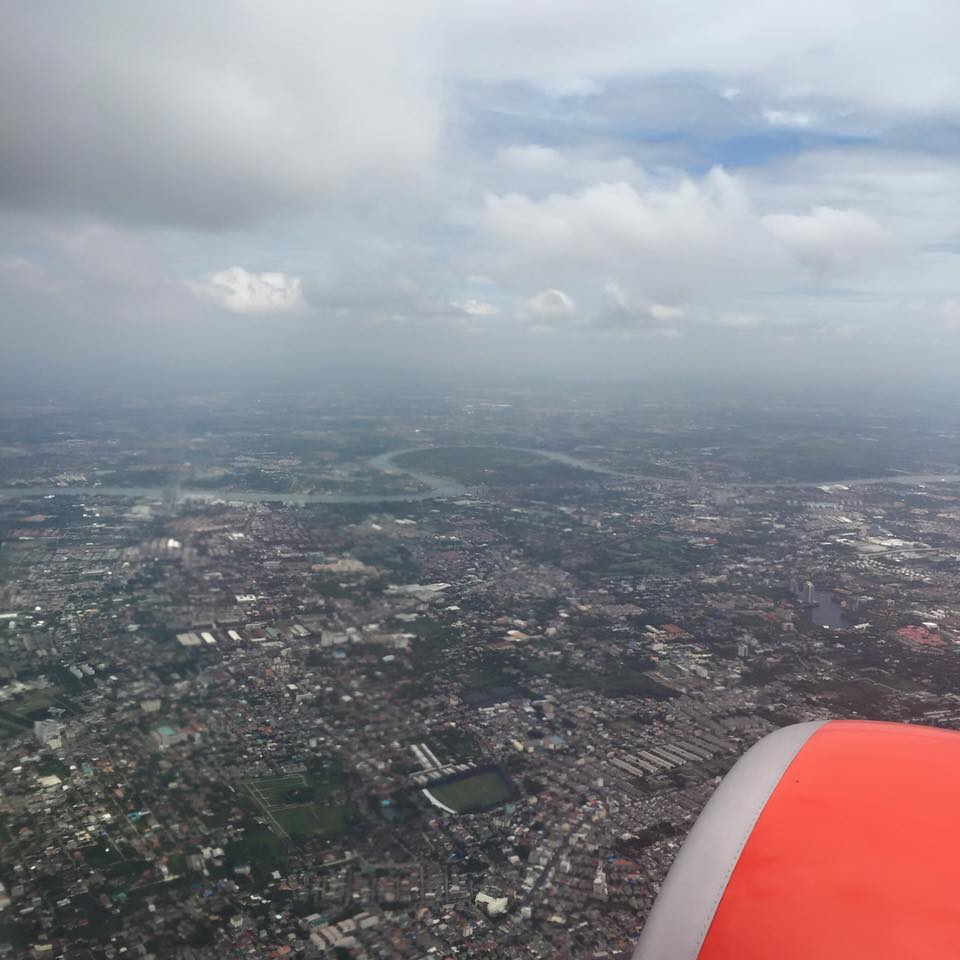 Lies, all lies
I hopped on a bus to take me to the pier, from my research I could make the 3pm ferry. 'Sorry Madame, no 3pm ferry, only 4pm today', the shifty man uttered when I tried to buy a boat ticket at a cafe that the bus company uses as a 'holding house' for backpackers like me. I immediatelly thought that he was lying and that he was telling me a later time to force me to buy food fron his cafe. I would not succumb, even if I starved!
I somehow managed to persuade the man to take me the pier for 3pm. I laughed inside as the mini bus drove away, thinking of how stupid my fellow travellers were to believe the creepy guys story. I'm an experienced traveller and no-one is going to trick me, haha!
Unfortunately I didn't get the last laugh as the next ferry was actually at 3pm. Despite being majorly pissed off I made friends with some fellow English girls and ate a tuna sandwich.
The ferry ride from hell
I travelled on a boat many times during my 2013 sabbatical so I like to think of myself as a kind of expert. I chose a seat near the front of the boat to reduce the chance of sickness.
It made no difference.
The boat rocked from side to side so violently that there were sporadic screams from the passengers. The air changed from musky backpacker to acrid vomit within seconds and I was forced to seek refuge on the top of the boat. All was well until the rain started to pour down and I risked my life sliding across the slippy deck back into the safe but disgusting inside of the boat.
Koh Phi Phi?
Koh Phi Phi was a place of pilgrimage for me in 2013. When I was in my car visiting patients as a podiatrist I would listen to Pure Shores by All Saints on repeat and imagine I was on that beach. 'One day, you will make it to that beach', I whispered softly to myself.
Koh Phi Phi felt so far removed from the paradise I remembered. The rain was pouring down and salt from my sweat was stinging my eyes. I was not broken though, no. I was staying in the islands best party hostel and I wasn't going to let a bit of rain get in the way of my fun.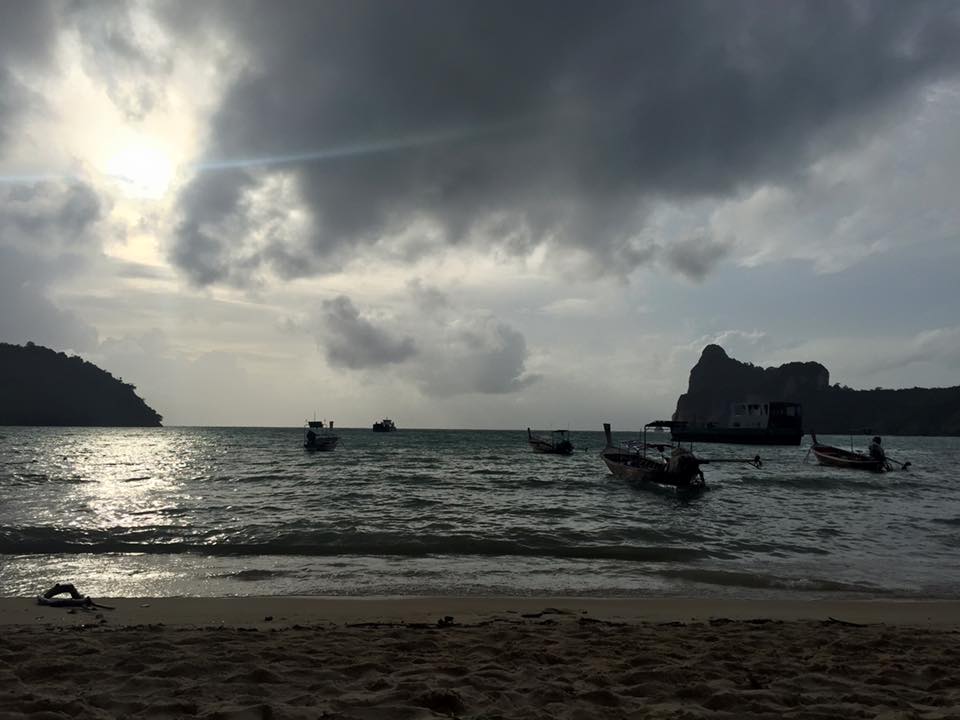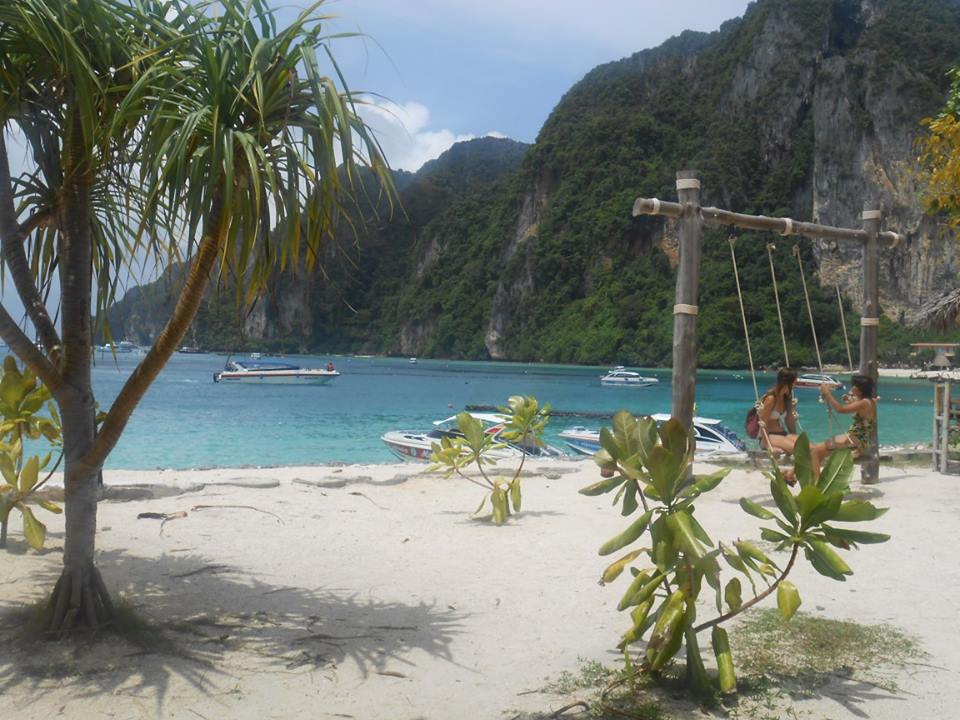 Hostel from hell
I finally found the hostel after trudging across the beach. I had to wait a good 20 minutes before being seen to (Solo travellers don't seem that cool to hostel staff maybe…). I wish I could say that the room was worth the wait but it was a cramped and grubby room right next to the bar. I had a bottom bunk though so it wasn't so bad I guess? The one window was blocked up and the pain was peeling from the walls. If there was going to be another 'Hostel' sequel I think that this hostel would be the perfect place!
I was ready to party the night away. Rain won't stop me! I made my way to the shower, got undressed and turned the shower on. Rather than being greeted with a lucious stream of warm water I saw a barely visible dribble of water. It took me a good 20 minutes to rinse my hair but I wasn't going to let it get me down! I then realised that there was no mirror in the dorm so I had to get ready in the corridor.
Oh no, I didn't have a lock! I completely forgot to bring one, it's been a while since I've been a backpacker you see. No worries I'll buy one from the hostel.
'Sorry, no have'. Hmmmm, no worries I'll buy one when I'm out for dinner!
I had an amazing Italian meal and met a cool Dutch girl who kindly followed me around while I went on the search for an elusive padlock. I looked in every convenience store and couldn't find one. The rain was so bad that I give up and decided to go to my jail cell for a rest.
The hostel staff kindly found me a lock, then made me pay 200baht for it, okay….
I hit the bar and treated myself to a large Chang and made friends with a bunch of people. The drinks were flowing, the music was playing, it was a good night. Then I saw a sight from the corner of my eye, a naked man! In a bar! I looked around and saw the staff member who checked me in with no bra and another girl in just her illuninous thong. I like to party and have fun but I've never really experienced hedonism like this. I decided to keep an open mind and enjoy the day.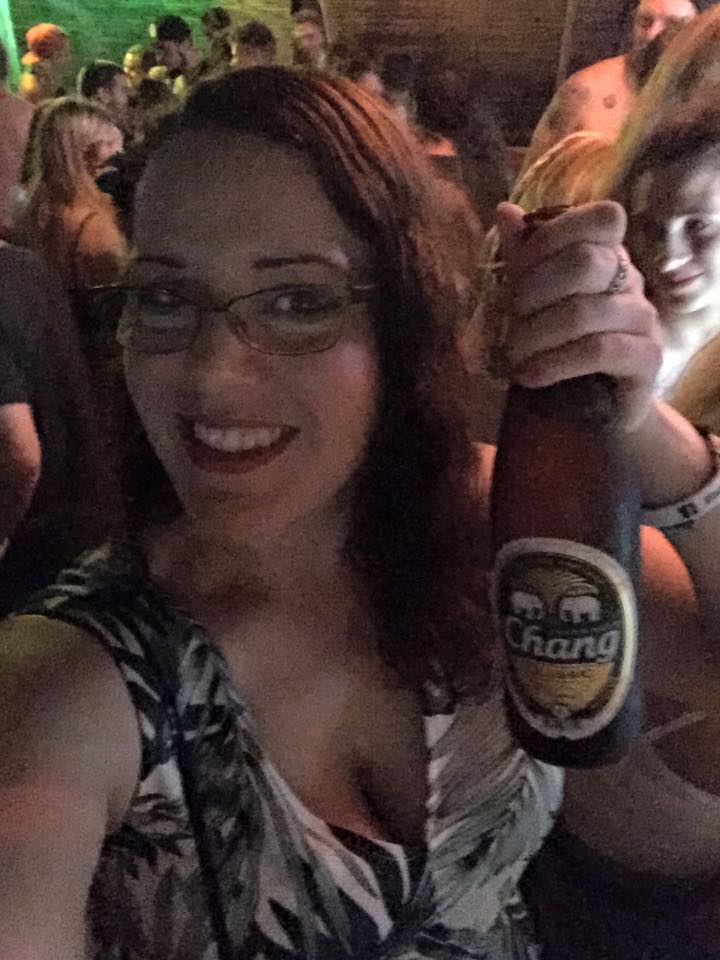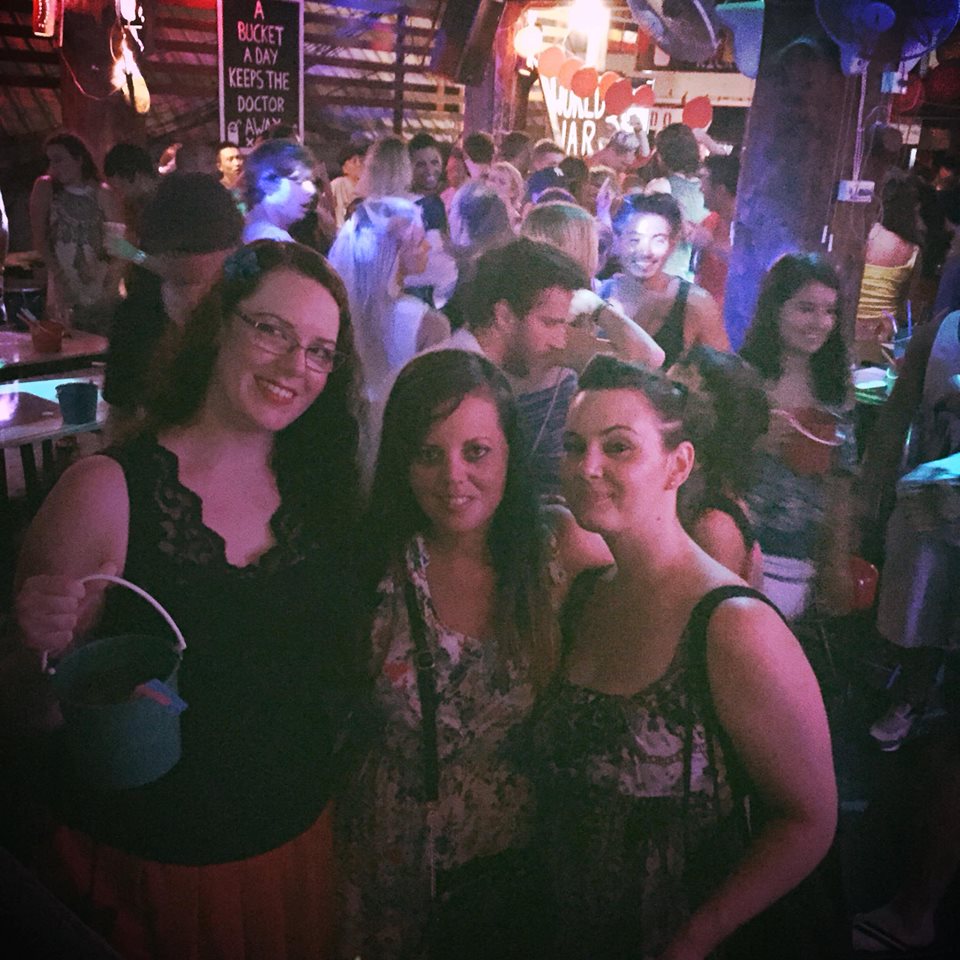 The next day I went to the toilet and realised that there was writing all over the walls, most of it in red pen so it looked like blood. Creepy. The writing was quite rude with lots of people writing their conquests on the wall ect. 'Dave fingered Jenny here 2015'….
I wanted another shower to freshen up, I thought I'd be clever this time and check all the showers. Two only dribbled water and the other two had the shower head ripped off! I asked a staff member if there was a shower I could use but he said they were all broken, 'because you know what people are like then they have a drink eh', what they cut off a hostels water supply?
That evening I had a beer with the Italian guys in my dorm. I normally stay in female dorms but decided to stay in a mixed dorm since that's all the 'best party hostel in Koh Phi Phi' has. They seemed like nice guys though so I wasn't worried.
I went out for the night with my friends and had a great night. I went back to the dorm and tried to get changed in the dark. The Italian guys burst in and turned the light on. I sheepishly pulled my nighty on and had a bit of a chat with them before turning over and trying to get asleep.
I was woken up a few minutes later by the smallest Italian screaming 'I like big boobies'!' and flinging himself in the bed next to me, trying to kiss me. I pushed him off and sternly told him to go back in his own bed. That's the reason I try not to stay in mixed dorms…and the fact that men snore more than women.
The next day I demanded a refund. 'oh is it not your scene?' the guy said condescendingly.
No, I guess it's not.
I checked out and moved to a lovely private room with actual orchids growing in the bathroom.
You'll have to wait until part 2 to see what happened next in my favourite country….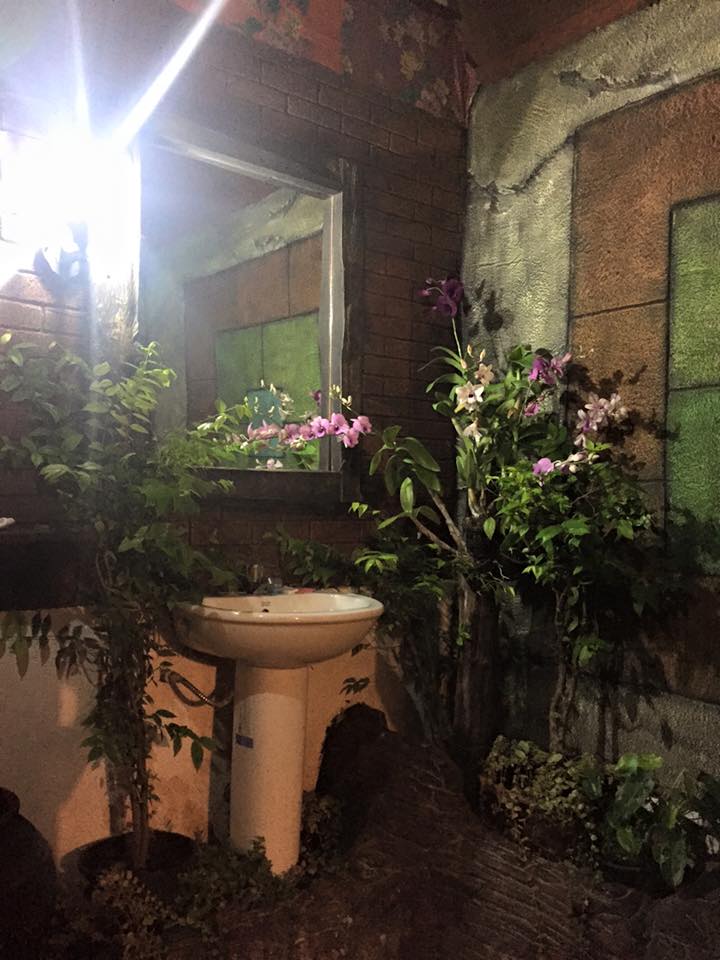 Have you ever stayed at a dodgy hostel like this one? Did you tough it out or check out straight away? As always I love hearing your thoughts on this post!