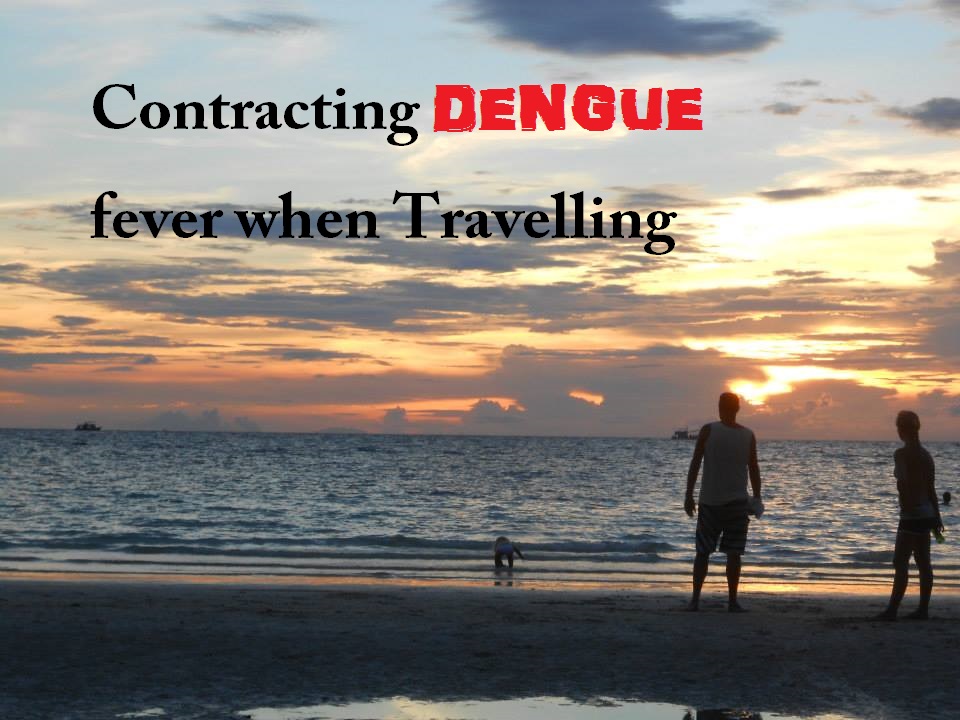 I was unfortunate enough to contract an infectious tropical disease during my travels, dengue fever.
Dengue fever is a viral infection transmitted by mosquitoes  If you keep up to date with me on Facebook or Twitter you will know that I'm in Thailand now. I contracted dengue fever on the beautiful island of Koh Chang, not far from the Cambodian border.
I was staying in a charming little bungalow right next to trees and the beach. The bungalows were so 'rustic' that there were little holes in the huts (because they were made from wood), the door didn't shut properly and the bathroom was a squat toilet and shower…..outside! No sinks, no mirrors and no modern amenities. That's what I liked about my stay in Ice beach bungalows. It felt like I was back to nature and I could hear the animals in the jungle at night. Just like camping!
Little did I know that getting back to nature would cause me to get the dreaded Dengue fever!
The bungalows were heaven for mosquitoes  There was stagnant pools of water around the bungalows and in the bathrooms. I would very often get a shower after the beach, here I would get bitten by mosquitoes every time! Once I even shared my shower with a massive spider!
It was kind of worth it to shower in the sun or under the stars….
All of this stagnant water was the perfect breeding ground for mosquitoes  Mosquitoes seem to love me anyway so I got bitten more than any of my friends.
I never dream't that I would catch a tropical disease by getting back to nature for a few nights!
One day I woke up and my whole body ached. It felt like I had been in a fight or something.  I put this pain down to lying in a funny position and I tried to go about my day as normal. I even had a massage on the beach which made me feel even worse. I went back to my bungalow early and had a nap.
Needless to say when I woke up I was raring to go! I got dressed and went to the bar with my friends, dancing in to the early hours.
This cycle of feeling ill, aching and then feeling a little better continued for days. I had diarrhoea so I just thought that it was the effects of that.
On my friends second to last night I felt REALLY ILL. I felt dizzy, I had a temperature and I was aching everywhere. Still I went and partied for a few hours because it was my friends last big night out. I just took a few paracetamols and tried my best to have fun.
The next day I was really ill. I am normally quite a motivated person but it took me hours to even get dressed. I would attempt to put an item of clothing on and just lie down for a bit.
This was not like me!
I managed to meet my friends for breakfast and then I slept all day until dinner. At dinner I could barely eat my pizza, I had no appetite. This is extremely unusual for me. I felt dizzy and confused, like I was not fully participating in what was going on. I went to bed after dinner and vowed to go the hospital the next day. I could not live like this. 
Part of me was terrified that I had malaria and I just wanted to be at home.
The next day I woke up with a horrible red rash covering my whole body. This scared me immensely so I made my way to the international hospital.
Once there they took my blood pressure, temperature and a blood sample to see what the problem was. I tested positive for dengue fever and my platelets were dangerously low. I was also diagnosed with food poisoning because I had had diarrhoea for over 5 days now.
Dengue AND food poisoning? Just my luck!
It cost me £178 to be told this too, as If I wasn't feeling faint enough!
At least I didn't have malaria though, that was my greatest fear!
For the next 5 days I moved to a more luxurious bungalow with en-suite, a nice big comfy bed and no mosquitoes . I was ordered to take paracetamol every 4 hours and drink as much water as I could. I just slept for the first 2 days, even going for a fruit shake seemed like a big effort and I would take hours to prepare. Every bone in my body was aching, even lying on my bed was painful.
I felt so alone and just wanted someone to  Every bone in my body was aching, even lying on my bed was painful.help by getting me some food or something. It's at times like this that solo travel sucks.
I went back to the hospital for a blood test and was told that my condition has worsened and that I would have to be admitted to hospital if they went any lower.
Great.
I continued to nurse myself back to health. I felt so nauseous and had no appetite so it was hard to eat. I was prescribed anti sickness tablets to take before meals. They didn't work. I forced myself to eat 'English' style food like scrambled egg and beans on toast and fruit shakes.
Eventually I started to feel a little better. I would spend the days outside reading instead of just sleeping. I was so pleased when the Doctor said that my bloods were back to normal again! Yay! He said that I would feel weak for a while but that I was now free of Dengue.
I stayed put in my bungalow for 2 days and tried to get back to normal. I started eating Thai food again and I went to the beach on my last day.
Overall having dengue fever was horrible and I was fully prepared to go home if my condition hadn't got better. I felt so weak that I couldn't cope on my own and I would have loved to have someone to help me with things. I did it all on my own though.
If I can look after myself during dengue fever I can look after myself during anything now! It was so hard but I did it!
Now i just need to try and avoid contracting malaria…..
Have you ever had dengue fever? If so was your experience similar to mine? Do you think you could have nursed yourself back to help alone like I did?