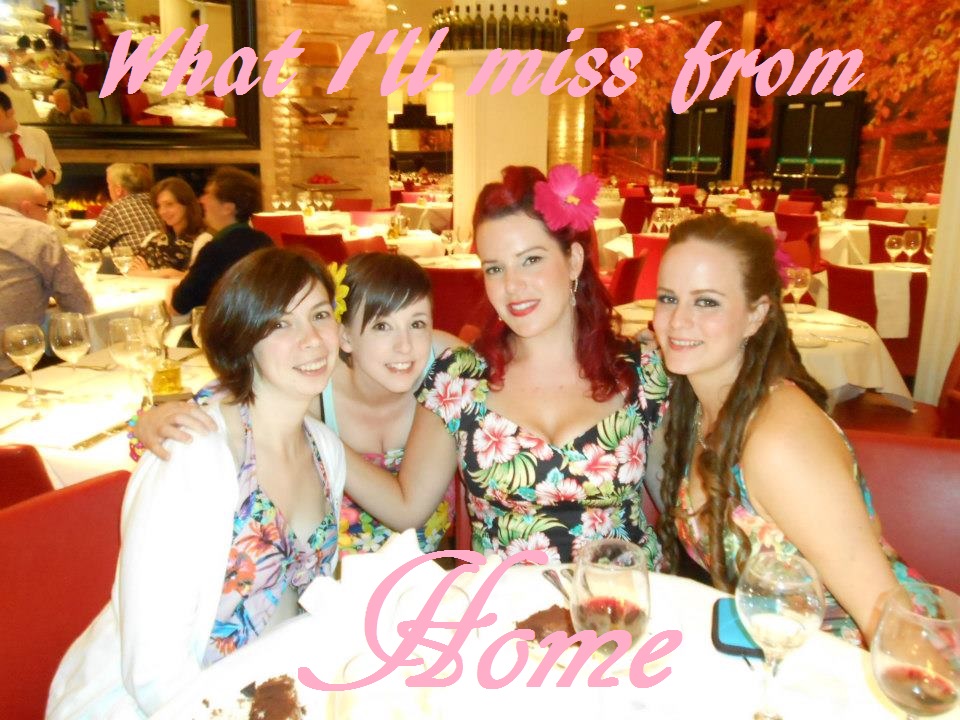 Can you believe that it's only 4 days until I leave! It has come round so fast! I have had a very hectic week with moving out, sorting all of my possessions so that they fit in a box room and planning the perfect packing list! As I said in my last post I have also been feeling very sentimental about England and what I'm going to leave behind.
So here it goes! This is a list of what I will miss from home when I'm on my travels!
My Family
I'm very close to my immediate family. I have always made the effort to see them as often as possible and rarely a week has gone by where I have not popped by for a cup of tea one evening! I will miss having someone to help advise me on what I should do and talking to people who know me inside out. We are going to keep in touch via skype but I will really miss them.
Little Leo
Leo is my parents cat and he is the cutest cat in the world! He is so affectionate and can make any surface look cosy. Believe it or not his favourite 'bed' is a milk tray box from Christmas! I hope to pet many cute cats in Asia though, which is part of the reason why I got my Rabies jab…
Horse riding
I started horse riding about two years ago and since then I have had a slight horse obsession; so much that I actually go to Adult pony club where we do things like braid horses hair and practice putting boots and bandages on the horses as well as learn about horse theory. I love the freedom of riding. There is no better feeling than cantering at speed on a beach or mountain. It broke my heart to have to give up riding in the last few months before the start of my big trip. One of my dreams is to ride a horse through the Australian rain-forest when I'm in Australia!
English food
I always feel a pain in my heart when people diss English food. Yes it may not be the most flavoursome or healthy of foods on the planet but surely nothing is more tasty than a roast dinner or fish and chips? I especially love good old Widnesian chips, peas and curry, mmmmm. I am looking forward to the food in Asia though. Especially in Sri Lanka where I hear that they eat curry three times a day! Now that sounds like my type of place!
Vintage Clothing and shopping!
You may have guessed that I like the vintage look. I especially love clothes from the 1950's and 1960's and I wear a lot of reproduction and original vintage pieces. Unfortunately real vintage is too fragile (and precious!) to take travelling and most of my reproduction vintage clothes are very heavy and crease very easily. I'm going to try my best to retain my style whilst I'm away though so I'm going to pack versatile pieces that look pretty and are easy to clean. I also want to see if I can find any vintage inspired dresses on my travels.
Work
What?! I hear you cry! Calm down, I don't think that I will miss my actual job but I will definately miss being productive. I'm usually always on the go from work, seeing friends and my hobbies so my proper spare time is very mimimal. To counteract this I want to try volunteering whilst I travel to help local communities and seek casual employment if the opportunity arises. Saying that I may love having so much free time to spend how I wish. I want to work on this blog, practice photography and study the language, culture and history of the places that I'm visiting. I'm sure that that will keep me very busy!
The English/Welsh countryside
I think that there is nothing as beautiful as the UK on a sunny day (Which is about 10 days a year). I love the lush greenery of the British countryside. So much that in April of 2012 I joined the local young ramblers group in Liverpool. It was one of the best things that I have ever done. Because of the ramblers group I have been able to get to see the countryside in person throughout England and Wales and met many good friends with similar interests!
I think that the beaches in Asia and Oceania will be better than the beaches in the UK….
Red Hair
I had red hair for years but I had to dye it back to it's original brunete colour before I start travelling. I have been a brunette for about two months now and I really miss red hair! I love how different and vibrant it looks. I love being an individual and red hair really made me stand out in a crowd.  Alas, after the infamous 'Valencia incident' I decided that it would be wise to travel as a brunette rather than a redhead. Being a redhead is very high maintenance and requires dying my hair weekly to keep its vibrant colour. Not to mention having to dye the roots every six weeks!
I will be a redhead again though, someday….
Liverpool
Fianlly I will miss my favourite city in the whole of the UK, Liverpool. Liverpool has everything that you could want from a city yet it has the small town feeling. It has an unrivalled nightlife scene and is full of history and culture at every turn. I love Scousers and their friendly outgoing nature. I feel extremely safe in Liverpool and I'm so lucky to have called it home for the past twenty two months. It does not deserve it's reputation.
So fellow travellers, what do you miss from home?