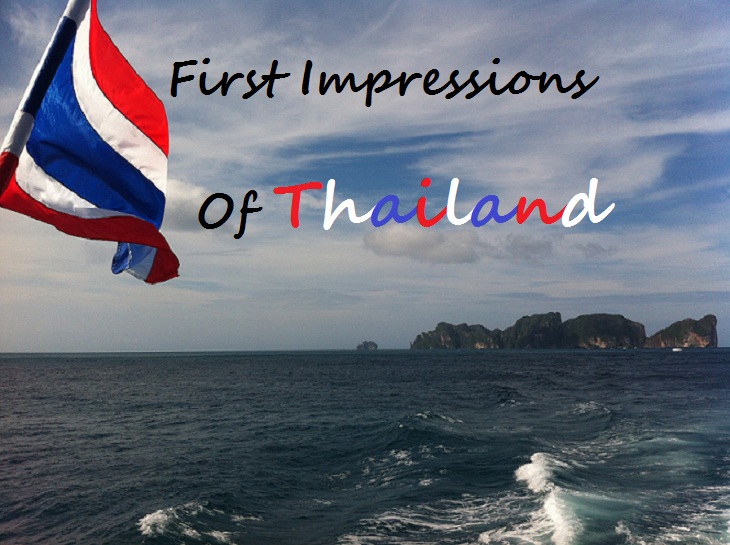 'Miss Stephanie, Miss Stephanie. Border time. Get off!'.
I woke up from my deep sleep, still tired from the 5am wake up call. Dazed I made my way to the back of the mini bus and heaved my heavy backpack on to my shoulders.
The border was swarming with people selling strong smelling food and drinks in plastic bags, thick smoke filled the air with a cloying scent. I looked around at the various signs dotted around. 'Penalty of death for drugs' etc; I felt a pang of panic that someone had slipped something in my bag when I was asleep but I realised that it was highly unlikely.
I got the coveted Thai stamp in my passport and struggled to find my white minibus in the swarms of badly parked white minibuses at the other side. I needn't have worried because my driver recognised me, after all I was the only lady falang on his bus.
I got a seat at the front of the bus, feeling pleased because I thought it would mean more leg room. As the bus rolled through suburban Thai streets the bus gradually started to fill up and I shared the three front seats with three Thai women. They were only tiny though which made me feel self conscious of my Western bulk.
I was engrossed reading 'The Beach' on my kindle when I felt a tap from the guy sat behind. 'It's weird isn't it? The writing looks like hieroglyphics. Don't worry you will get used to it'. I shared that I had travelled to Sri Lanka and that their writing was also in symbols. The guy told me that this was his third time to Thailand and that he spoke moderate Thai. He couldn't have been more than twenty years old. I felt embarrassed at being such a travel rookie and gazed out of the window for the remainder of the journey.
The floor seemed dry and arid and there was a food stall every couple of feet. A few cows roamed the streets freely, drivers of the many scooters seemed unperturbed. What shocked me the most was large pick up trucks with a roof and benches that sat up to 14 people in the back. 'What are they?' I asked the guy. 'Oh they are songthaews, they have them all over Thailand. You will be getting very accustomed to them in the coming weeks'. I tried to hide the horror in my eyes. They didn't look safe at all, there must be a safer alternative?
A songtheaw in all of it's dangerous glory.
The mini bus stopped in an extremely busy place. 'Miss Stephanie, off now!' I looked around and couldn't see the train station anywhere. I told the guy that I paid to get to the train station and his nice demeanor vanished. 'Train station down street, you get off now, I very busy. Now!!!'. Not wanting to make a scene I got off, heaved my backpack on to my shoulders and set off in the direction of the station.
10 minutes later I reached the station and ordered a sleeper train to Bangkok where I was going to celebrate Songkran with a fellow travel blogger. 'Next train at 6, here is your ticket, next please', the ticket guy said. 'But its 1pm! There must be a train before that? 'No, that's only train, next please'.
By now I was feeling quite wound up. When I read about Thailand I heard it was the land of smiles. This seemed to be the land of moodiness. I found a place to store my bag at the station and I felt a weight literally lifted off the shoulders. The helpful assistant even helped me with my bag and smiled at me!
I decided to make the best of a bad situation. I was stuck in Hat Yai for 5 hours so decided to have a look in the shops. I decided to treat myself to a McDonald's for the first time in two months and ordered a 'tuna pie' as a little treat. It was a mix between a dessert and a savoury pie, quite peculiar.
I spent a good hour people watching and I started to understand why they call it the land of smiles. Most Thais seemed very merry, without a care in the world.
My back was akeing so when I heard the cry of 'You wan massaaage?' I knew I hat to try one. I had read a lot about Thai massages but noting prepared me for it. I was ushered in to a small room upstairs and sat on a foam mattress on the floor. The lady had the smallest handbag known to mankind, to this day I still wonder what she had inside it.
What came next was basically torture, every joint in my body was cracked. The lady would not relent until she heard that satisfying pop and she would swing me around until she heard it. She stood on my back too with was peculiar and did a kind of assisted forward roll. At the end I paid my 200baht and literally felt no pain in my entire body! It was a miracle!
I was at that moment when I started to love Thailand. A place where no day is the same. Despite the rocky start Thailand became one of my favorite countries in the world and I spent 3.5 months of my trip there!
Have you ever travelled to Thailand? What were your first impressions?